Air University Islamabad Admission section is positioned in the vicinity of the Margalla foothills in the southeast place of sector E-9 (PAF Complex) of Islamabad. Air University Islamabad main entry is surrounding to the intersection of Agha Shahi Avenue (9th Avenue) and Khayaban-e-Iqbal (Margalla Road).
Air University Islamabad Admission 2022 Last Date, Eligibility and Fee Structure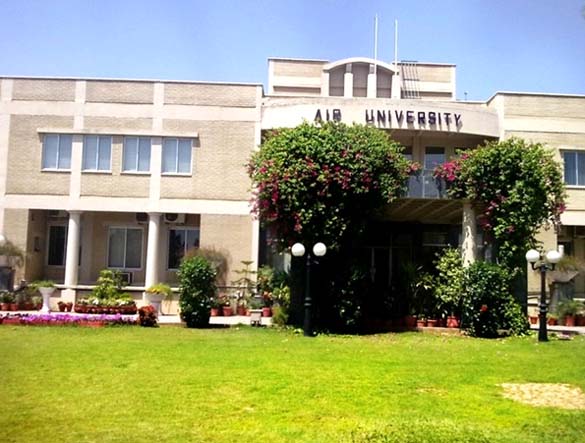 Important 2022 Admission Date for BBA, BSCS, BBS, MBA 3.5 Years, MCS, MSc Mathematics, MBA 1.5 Years, MS Management Sciences, MSCS
Schedule
Date for Applicant's
Last Date for form Submission (online 2nd test):
18-06-2022
Entrance Test Computer Based
03-07-2022 to 09-07-2022
Air University First Merit List
20-07-2022
Interview dates for Undergraduate and MBA
01-08-2022 to 04-08-2022
Interview (MS and Ph.D)
08-08-2022 to 09–08-2022
Last date for Fee Submission:
08 August, 2022 (UG and MBA)
15 August, 2022 (MS and Ph.D)
Second Merit List (If require)
09-08-2022
Orientation for New Students
05 September, 2022
Commencement of Classes
06-09-2022
Air University Islamabad Undergraduate Admission 2022 Eligibility for BS, MS and Ph.D
Air University Islamabad, PAF Complex, Sector E-9, Islamabad. Please note that once the required numbers of Applicant's join the University, the Following merit list(s) will not be announced. All merit lists and related announcements will be displayed on the Air University's Website. MS Engineering and MS Mathematical Modeling & Scientific Computing candidates are not required to appear for the Admission Test.
Eligibility for Undergraduate BS Programs:
Must score 50% marks in HSSC. Marks 49.9% not consider 50% be careful to apply
Result awaiting students are also eligible to apply. Submit hope certificate from the hssc institution.
Eligibility to Apply for Master Programs and Ph.D:
Undergraduate degree BS with 4 years must have minimum CGPA 2.50/4.00 or equivalent
GAT (General Test) must score at least 50% Marks. Be sure GAT test must passes before apply admission for MS Program.
Final selection of students list will appear after interview.
How to Apply?
AU admission 2017 online through link provided by university. Now Air University Admission online for students to apply and submit application form. First see your program eligibility for BS, MS and Ph.D than apply for admission. Here is address for apply online.
Online Application Form
Prospectus and admission forms can be obtained from the following places:
AU Multan Camps, 82- Abdali Road, Khan Centre, 3rd Floor Multan Cantt.
PAF Information & Selection Centre, 217-Sher Shah Road, Multan.
PAF Information & Selection Centre, M-14 Munir Road, Lahore.
PAF Information & Selection Centre, 9th The Mall, Peshawar Cantt.
PAF Information & Selection Centre, Mall Road, Adjacent to PSO Pump, Rawalpindi.
Bank Alfalah, F-10 Markaz Branch, Islamabad.
Air University Fee Structure 2022:
Fee Structure is update version of 2017 from university. Applicant's must be submit there fees before due date otherwise admission will not consider.
| | |
| --- | --- |
| Programs | Fees |
| BE Electrical Engineering | RS. 85,69 |
| BE Mechatronics Engineering | RS. 76,670 |
| BE Mechanical Engineering | RS. 81,180 |
| BSCS | RS. 55,008 |
| BBA | RS. 68,760 |
| BS English | RS. 45,000 |
| Bachelor Studies in Accounting and Finance (BSAF) | RS. 58446 |
| BS Physics, BS Mathematics | RS 45008 |
| MS/MPhill Linguistics and Literature | RS. 40,320 |
| | |
| --- | --- |
| MBA 1-1/2 Year | RS. 50,160 |
| MBA Executive 2 Years | RS. 63000 |
| MS in Management Sciences | RS. 59,136 |
| MS in Applied Physics, MS in Information Security, MSCS,MS Maths | RS. 44,352 |
| MS in Project Management | RS. 52800 |
| MS= Mechatronics/ Electrical /Avionics /Aerospace /Mechanical | RS. 30,240 |
| Ph.D= Electrical / Aerospace / Avionics / Mechanical / Management Sciences / Linguistics and Literature/ Mechatronics/ Mathematics/ Physics | RS. 30,240 |
| Online Admission Charges |  RS 2000 (Not Refundable) |
| Security Fee | RS 10,000 Refundable |
| Re-Admission Fee | RS 20,000 (Not Refundable) |
MUST see before Apply:
Note: Prospectus can also be obtained by sending Bank Draft of Rs. 2100/- in favor of Air University, Islamabad. Merit list will be displayed on AU website http://www.au.edu.pk Air University PAF Complex, E-9, Islamabad
Email: [email protected]
Thanks for visiting our site which is compatible of Universities Admissions and details. We provide the best information about Air University Islamabad Admission 2022.
Official Website: AU Islamabad
Founded: 2002
Status: Public