AJK University Muzaffarabad Fall Admission 2022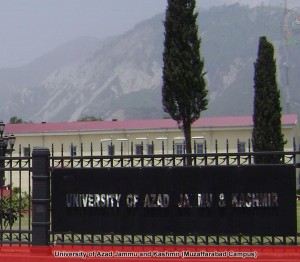 About: 
Muzaffarabad Location is Kashmir in minuscule. 2 rivers sweeping through the city, a wide range of springs, towering mountains all around and fruit timber make the city true consultant of Kashmir. The traditional Kashmiri architecture composed of wooden houses presents a breathing acquiring view.
Standing up majestically in the south of the city is Muzaffarabad Fort, in general recognized as Red Fort which traces back a checquered history.
Important Fall 2022 Admission Date for Faculty of Sciences & Engineering, Faculty of Arts, Faculty of Health & Medical Sciences
Last Date of Form Submission Sep 14
Entry Test Sep 20
1st Merit Display Sep 30
2nd Merit Display Octo 07
3rd Merit Display Octo 14
Departments:
Faculty of Agriculture:
AgronomyHorticulture
Entomology & Plant Pathology
Food Technology
Plant Breeding and Molecular Genetics
Soil & Environmental Sciences
Eastern Medicine and Surgery
Veterinary and Animal Sciences
Computer Sciences & Information Technology
Faculty of Arts:
Art & Design
English
Law
Kashmir Institute of Economics
Institute of Kashmir Studies
Peace Studies
Department Of Education
Sociology & Rural Development
Faculty of Sciences:
Botany
Chemistry
Computer Sciences & IT
Mathematics
Physics
Zoology
Geology
Statistics
Faculty of Health:
Health Communication
Medical Engineering & Technology
Biostatistics
Epidemiology
Child Health
Nursing Sciences
Environmental & Occupational Health
Family & Community Medicine
Healthcare Management
Health Economics
Maternal Health
Admission:
Admission Procedure:
Students residing all-around Muzaffarabad and Rawalakot area can acquire and send their application forms from admission Director Students Affairs Office Muzaffarabad. In the same way, in Kotli and Rawalakot Campuses Deputy Director Students Affairs will disperse and collect admission forms.
 CSD and LSC:
A Central Semester Desk (CSD) will help out applicants in the admission procedure. Local Semester Desk (LSD) will help out them at each campus changing the subsequent method for admission:
Collection of Admission forms in CSD/LSD.
Scrutiny of documents and preparation of merit list by Admission Committee.
Display of merit list by CSD/LSD.
Submission of fee
Central and Local Semester Desks will assist students when they are accumulating forms and submitting fee or register independently for any semester.
The CSD will comprise of the subsequent counter to help out students:
Registration Counter
Exams Counter
Finance Counter
Bank Counter
Departmental Counter
Admission Office
Information Counter
Documents to be affixed with the application form
Attested copies of the following certificates /degrees should come with the application:
Subject-wise marks certificates of the examinations passed.
Character certificate issued by College Principal/ Institution.
Migration certificate (if appropriate).
State subject certificate (if appropriate).
Domicile certificate.
National Identity Card.
5 Passport size Photographs.
No objection certificate in case of those offering in Govt. or any other Institution, from their employer.
Applicants if searching for admission under any of the appropriated seats/ categories should submit related certificate issued by competent expert and any other plea such as "Certificate under process" shall not be entertained.
Last date of submission of application form:
Application comprehensive in all aspects and affixed with the Demand Draft/ Cash Deposit receipt of Habib Bank AJKU Muzaffarabad Branches with each other with essential certificates shall be put in the account by applicants in the office of Director Students Affairs Muzaffarabad or at the office of Deputy Directors Students Affairs at Kotli and Rawalakot campuses on due date against a suitable receipt.
Late Admission:
In the event that some seats fall vacant after the conclusion of admission method, late admission may be made available to the applicant within the 3rd week after beginning of the semester. On the other hand, in such a case the student shall be dependable to make up any variety of deficiencies.
Library:
The Central Library is effectively displayed with books, journals and relevant elements and 31, 000 online research journals. Within the Digital Library Procedure for the Enhancement of Research Information (PERI), the Higher Education Commission (HEC) offers access to scientific and scholarly literature through Foreign Network for Scientific Publications (INASP). The AJKU Muzaffarabad has now been associated to this contemporary facility from April 5th, 2004, offering admittance to over 11, 600 peer-assessed full text online foreign academics journals and more than 20, 000 abstracts from some of the world's top establishing houses including Blackwell-Synergy, CABI, EBSCO, Oxford University Press, Mary Ann Leibert Springer Link, and JSTOR. Prepared with bibliographic and other databases, the program goals to assist capacity building in the investigation sector by building up the production, access, and dissemination of information and expertise. The Library has also been equipped with all the latest Information Communication Technologies (ICTs) such as computers, L. C. D, multimedia and expense projectors, digital cameras, photocopier, audio visual collection to accomplish the faculty/students, and high speed world wide web connectivity.
Get latest updates of Admission of AJKU Muzaffarabad.
Thanks for visiting our site which is compatible of Universities Admissions and details. We provide the best information about AJKU Muzaffarabad 2022.
Official Website: AJKU Muzaffarabad
Founded: 1980
Type: Public