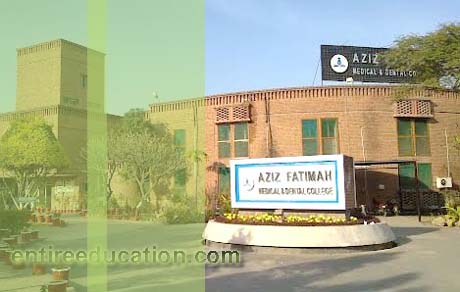 Aziz Fatimah Medical and Dental College Admission
(adsbygoogle = window.adsbygoogle || []).push({});
Aziz Fatima medical and Dental College commonly known as AFMDC is a joint project of Ghafoor Bashir Pvt Limited, Aziz Fatimah Trust a Sitara Group's Public Welfare entity and Al Habib Group of Colleges. The college is located in Faisalabad. The college has strived hard under the supervision of its Authority to gain the status in medical colleges Punjab and to achieve honor and distinction. The college is recognized by the Pakistan Medical and Dental Council. The college got recognition from PMDC in 2011.
The building of the college has magnificent structure. The atmosphere of the building is airy and spacey. The infrastructure of the building is also excellent with many facilities like sports courts, mosque, hostel and auditorium. The AFMDC has also an attached teaching hospital where the students can perform their clinical practice. There are also state of the art lab facilities in all departments of AFMDC.
Aziz Fatimah Medical and Dental College Admission 2020
The college has two main faculties that have sub departments. All departments offer various courses of medical degrees. The structure of faculties and departments in AFMDC is given
Basic
Anatomy
Physiology
Biochemistry
Pharmacology
Forensic Medicine
Pathology
Community Medicine
Clinical
Medicine
Surgery
ENT
Pediatrics
Anesthesia
Obstetrics & Gynecology
Ophthalmology
Aziz Fatimah Medical and Dental College has state of the art lab facilities in all departments and also attached teaching hospitals for clinical students, where they practice for their relative discipline. The faculty members of all departments are highly qualified and have specialized degree in their field. AFMDC provide a healthy environment for study to its students.
Degrees offered:
Aziz Fatima Medical and dental college recently offer only one degree which is bachelor of medicine and bachelor of surgery (MBBS). This is a 5 years academic study program. The course curriculum and degree is recognized by PMDC.
Admission Procedure:
Admissions forms are available in the admission office or at the website. Admission form with attested copies of educational documents submitted to the admission office
Eligibility:
Candidates with HSSC pre-medical and appeared in UHS entrance test. Other requirements are as per PM & DC rules.
Entry Test Result 2020:
Merit list will be updated soon.
Teaching Hospital:
Aziz Fatima Hospital is attached with AFMDC as teaching hospital for clinical practice of the medical students. The hospital was established in 1980. AFH is a 300 bedded hospital affiliated with AFMDC for house job of 47 students by PMDC in Medicine, Gynae and Surgery during the year 1999. The hospital has all major and minor specialties and state of the art equipment. The hospital is giving health services to the people of its adjacent areas on NO PROFIT NO LOSS since 1978. The expansion of the AFH is approved and work will be started for its expansion soon. After expansion AFH will become 500 bedded health care center.
(adsbygoogle = window.adsbygoogle || []).push({});
Official Website: www.afmdc.edu.pk