Psychology is an ancient Latin word which means the study of the soul. It is an applied academic discipline that deals with a study of behavior and function of human mentality. we have detailed best universities in Pakistan For psychology. It is very ancient discipline of study and in English, the earliest reference was by Steven Blankaart in the year of 1964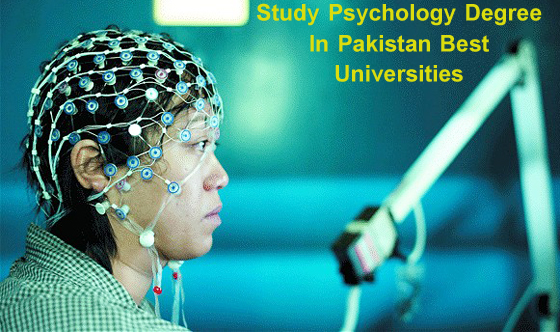 Psychological knowledge in best universities in Pakistan for Psychology may also apply to the treatment for all the problems related to mental health. Personality study is divided into many sub fields. These sub fields are
Biological
Clinical
Cognitive
Comparative
Developmental
Educational and school
Evolutionary
Industrial–organizational
Personality
Social
Positive
Q: Which University Is Best For Psychology In Pakistan?
| Sr. No | University Name | Founded In | Type |
| --- | --- | --- | --- |
| 1 | Punjab University Lahore | 1882 | Public |
| 2 | National Institute Of Psychology | 1967 | Public |
| 3 | Institute of Psychology Karachi | — | — |
| 4 | University Of Peshawar | 1950 | Public |
| 5 | Bahria University | 2000 | Public |
| 6 | GC University Lahore | 1864 | Public |
| 7 | University Of Karachi | 1945 | Public |
| 8 | BeaconHouse National University | 2003 | |
| 9 | Islamia University Bahawalpur | 1975 | Public |
| 10 | Virtual University | 2002 | Public |
Ans:
University Of Punjab Is Best For Psychological field of academic studies In Pakistan.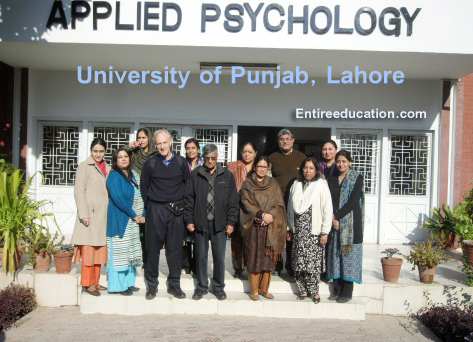 Study Degree of Psychology In Punjab University, Lahore
Punjab University is one of the oldest institutes in Pakistan and at the top of the list of universities that are offering a degree in Psychology. Institute has two departments for the field of Personality study. One is Institute of Applied Psychology and 2nd is a center for clinical Psychology. Both institutes are offering degrees at graduate and post graduate level.
Institute of Applied Psychology:
Institute of Applied Psychology was made as a department of psychology in Quaid E Azam campus of PU. Prof Dr. Ghulam Jilani was the first chairman of the institute. From the time of his establishment, the institute is serving as a pioneer in the field. Quaid e Azam campus of Punjab University was located next to the Lahore canal.
Degrees by Department of Applied Psychology:
The Institute is offering degrees at bachelors, masters and Ph.D. levels. Degrees in institutes are
Bachelors and Masters Programs:
BS Hons program in Applied
Masters: M.Sc. Applied (Morning)
M. Sc Applied (Self-Supporting)
M.Phil. Applied
MS Health Program
Ph.D. Programs:
Centre for Clinical Psychology:
Centre was made by the Prof. Dr. Raffia Hassan who was the founded director of the department. The Centre was established in 1984. Although main reason for establishing the department was the need of institute for the training of the clinical psychologists. In 1998, the institute has added other degrees in their degree programs. Since 1999, the center was renowned by his training in respective field of academia
Degrees Offered
The institute is offering degree programs as well as short courses in the field of clinical psychology at bachelors, masters and Ph.D. levels.
Bachelors Programs:
BS-4 Years Program
Advanced Diploma (ADCP)
Advanced Diploma  (Self Supporting)
Masters Programs:
Ph.D. Programs:
A part from these courses Centre is also offering LISL summer program for children. The program designed for the children of age 6 to 16 years. The purpose of the summer program is to make children confident and mannered.
Thanks for visiting our site which is compatible of Universities Admission and details.