Introduction, CECOS University Admission 2022 Last Date &     Fee Structure:
CECOS University Admission section,  Educational Institutions have been options of constant support to more than 12000 students for developing their careers, specifically in Business Management, Computer Sciences and Information Technology since 1986.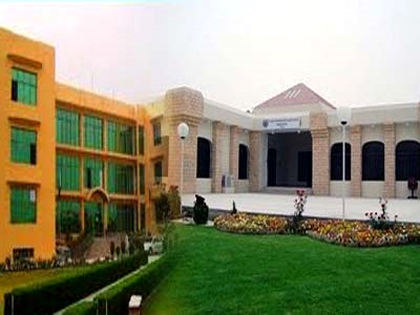 The story of the genesis of this CECOS University and its progress through several stages, started out in the year 1986, Engr. Muhammad Tanveer Javed organized in Peshawar Saddar a small non-public sector institution – CECOS University Data Institute with only 5 computers and a very several students. CDI then developed a One-year diploma program in Computer Science and got it approved by Board of Technical Education (B. T. E) for implementation in NWFP.
Important Admission Date for B.Sc Civil, Electrical, Mechanical Engineering, B.Tech Civil, Electrical, Mechanical, BSCS, BS Telecom & Networking, BS Electronics & Communication, BS in Architecture, BS of Art & Design, BS Media & Communication, BBA, BS in Commerce, BS Accounting & Finance, BS Biotechnology, BS Bioinformatics, PhD Civil, Electrical and Management Sciences, MS Applied Mathematics, MSCS, MS Architecture, MS Urban & Regional Planning, MS Civil, Electrical, Mechanical, M Architecture.
Last Date of Form Submission 05-09-2022
Colleges
College of Engineering & Information Technology
Institute of Management & IS
Data Institute
University-Frontier College of Business Education
University London College
CECOS University Admission:
Bachelor Degree Programs Admissions
B.Sc Engineering
Electrical (Comp & Comm) / Civil
Accredited by Pakistan Engineering Council (PEC)
Duration:
4 years (8 semesters)
Pre-Requisites
F.Sc Pre-Engineering or equivalent (60% or above marks)
Diploma of Associate Engineer (DAE) (60 % or above marks)
Note: The candidate must have 60% or above marks in Matric or equivalent
Offered at:
College of Engineering & Information Technology (CEIT)
BIT Hons / BCS Hons / BBA Hons / BBA-IT Hons
Duration:
4 years (8 semesters)
Pre-Requisites
F.Sc Pre-Engineering, F.Sc Pre-Medical, F.A, Intermediate in General Sciences/Arts, Intermediate in Computer Sciences and Intermediate in Commerce or equivalent
45% or above marks
Offered at:
Institute of Management & Information Sciences (IMIS)
B.Com-IT / B.Com-IT (Hons)
Duration:
2 years / 3 years
Pre-Requisites
F.Sc Pre-Engineering, F.Sc Pre-Medical, F.A, Intermediate in General Sciences/Arts, Intermediate in Computer Sciences and Intermediate in Commerce or equivalent
Offered at:
University -Frontier College of Business Education (FCBE)
Master Degree Programs Admission
MIT / MCS / MBA / MBA-IT
(2 Years)
Duration:
2 years
Pre-Requisites
2 or 3 Years Bachelor degree or equivalent (Graduation in Commerce / Science / Arts / Engineering / Business etc)
B.A degrees with elective subjects, like Urdu, Pushto, Persian, Punjabi, English/English Literature etc, are not eligible
Offered at:
Institute of Management & Information Sciences (IMIS)
MIT/MCS/MBA/MBA-IT
MIT / MCS / MBA / MBA-IT
(1 Year)
Duration:
1 year
Pre-Requisites
4 Years Bachelor degree in relevant subject/field or equivalent
Offered at:
Institute of Management & Information Sciences (IMIS)
CECOS University Admission, Fee Structure:
B.Sc Engineering (Civil / Electrical / Mechanical)
| | | | | | |
| --- | --- | --- | --- | --- | --- |
| | Admission Fee | Tuition Fee | Exam Fee | Misc Charges | Total |
| 1st Semester | 25000 | 7 Thousand | 2 Thousand | 5000 | 102000 |
| 2nd Semester | – | 7 Thousand | 2 Thousand | 5000 | 77000 |
| 3rd Semester | – | 7 Thousand | 2 Thousand | 5000 | 77000 |
| 4th Semester | – | 70000 | 2 Thousand | 5000 | 77000 |
| 5th Semester | – | 70000 | 2000 | 5000 | 77000 |
| 6th Semester | – | 70000 | 2000 | 5000 | 77000 |
| 7th Semester | – | 70000 | 2000 | 5000 | 77000 |
| 8th Semester | – | 70000 | 2000 | 5000 | 77000 |
| Complete Course | 25000 | 560000 | 16000 | 40000 | 641000 |
B. Architecture
| | | | |
| --- | --- | --- | --- |
| | Admission Fee | Tuition Fee | Total |
| 1st | 30000 | 60000 | 90000 |
| 2nd | — | 60000 | 60000 |
| 3rd | 30000 | 60000 | 90000 |
| 4th | — | 60000 | 60000 |
| 5th | 30000 | 60000 | 90000 |
| 6th | — | 60000 | 60000 |
| 7th | 30000 | 60000 | 90000 |
| 8th | — | 60000 | 60000 |
| 9th | 30000 | 60000 | 90000 |
| 10th | — | 60000 | 60000 |
| Complete Course | 150000 | 600000 | 750000 |
BS CS (Hons) / BBA (Hons) / BS Economics / B. Fine Arts (Hons) /
BS Telcom & Networking, per Semester
| | | | |
| --- | --- | --- | --- |
| 1st | 15000 | 3 Thousand | 40000 |
| 2nd | — | 3 Thousand | 30000 |
| 3rd | — | 3 Thousand | 30000 |
| 4th | — | 3 Thousand | 30000 |
| 5th | — | 3 Thousand | 30000 |
| 6th | — | 3 Thousand | 30000 |
| 7th | — | 3 Thousand | 30000 |
| 8th | — | 3 Thousand | 30000 |
| Complete Course | 15000 | 240000 | 255000 |
MS (CS) / MS (IT) / MS Management Sc./ MS Commerce
| | | | |
| --- | --- | --- | --- |
| | Admission Fee | Tuition Fee | Thesis |
| | 15000 (once) | 10000 (per subject) | 30000 |
MBA (1.5 Years / 3.5 Years)
| | | |
| --- | --- | --- |
| | Admission Fee | Tuition Fee |
| | 15000 (once) | 30000 / Semester |
B.Com
Admission Fee
Tuition Fee
Misc/Exam Fee
7000 (1st & 3rd Sem)
10800 (Per Semester)
2000 (1st & 3rd Sem)
M.Com
| | | | |
| --- | --- | --- | --- |
|  Semester | Admission Fee | Tuition Fee | Total |
| 1st | 4000 | 9000 | 13000 |
| 2nd | 4000 | 9000 | 13000 |
| 3rd | 4000 | 9000 | 13000 |
| 4th | 4000 | 9000 | 13000 |
| Complete Course | 16000 | 36000 | 52000 |
Thanks for visiting our site which is compatible of Universities Admissions and details. We provide the best information about CECOS University Admission 2022.
Official Website: CECOS University
Founded: 1986
Type: Private