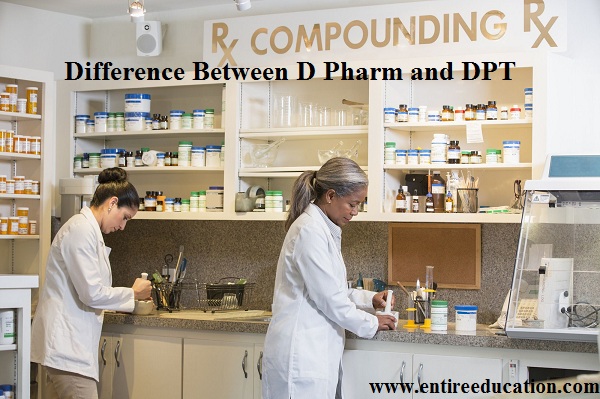 Difference Between D Pharm and DPT for Medical Students
Other than the bachelors in Medicine and Bachelors in Surgery, and also the bachelors in Dental Surgery, there are many other topics which are discussed in medical field. There is another rivalry between the disciplines D Pharmacy and Doctor of Physiotherapy. After the complete struggle of intermediate and HSSC examination, People want to go into Medical fields. Most of the students attempt to try MBBS and BDS others go into D Pharm and DPT. These are the logical expected future steps of a person from medical background in Education. In this Article, The candidate will be answered for his or her question about the Difference between D Pharmacy and Doctor of Physiotherapy. The readers are directed to keep reading the post till the end to find all the necessary details about these two disciplines.
Difference Between D Pharm and DPT- Scope of Pharmacy and Physiotherapy
Talking about the major Differences these two programs. First of all both the programs are from medical Fields but different in their subject Structure. The most common difference is that, a person who studies DPT basically learns about the muscle Therapy. While the people who study D pharmacy have a tendency to learn the details about medicine. Both Programs cover different grounds, which means both a different path in the future. D Pharm students tend to become pharmacists while DPT students become Therapists. Both these Disciplines have a 5 year duration. Down below the reader will see the best university for these Disciplines.
Which University/College is Best for D Pharmacy?
To get a proper and informative environment and healthy degree, a person wishes to choose the best institute for his or her educational Point of view. In this Paragraph, we will tell you about the Top University for D Pharm in Pakistan. People tend to get more marks in the intermediate examination in order to get admitted in the best Institute for their Bachelor degree. The top university is given down below:
University of Karachi, Karachi.
There are many other names like University of the Punjab and Sindh University. But the most Competitive institute in terms of this program is UOK. Students can also choose other institutions for their benefactor as well.
Q: Which University is Best for DPT?
The Best University for the Doctor of Physiotherapy program is:
According to the rating this Institution has been ranked 4.2 out of 5. The Good Degree means more leverage on getting a scale and standard job. This University provides a healthy and high standard Degree which will help in getting a good and if luck, one of the best Career job.
Q: Which is Better D Pharmacy or DPT?
Talking in terms of Scope of Both Fields, DPT leads in the discussion. It has more scope in Pakistan as well as in the other countries or abroad. Pharmacist do not get a proper Job at the hospitals while Physiotherapists are the ones who manage to get jobs in the Hospital Due to their particular field. While discussing the Scope of Department of Pharmacy, this Program does not have much scope in the Pakistan. This Degree is recognized and appreciated very much in Abroad. Putting these things aside, a person should have all the trust on his or her choice. This means that they must select the program that they like. Not the others.
Jobs Opportunities for DPT and D Pharm Students in Pakistan
Jobs after DPT
Physiotherapy professor
Sports team Physiotherapist
Private Clinic
Services Manager
Jobs after D pharm
Medical Store
Pharmaceutical Company
Public Sectors
Private Sectors
There are many other Job Opportunities for the people who have done these 5 year Programs. The struggle for completing these Degrees is real. After the completion, these degrees give there benefactor Results.
Also see: