Federal Medical & Dental College Islamabad is a public sector health education institution located in the capital territory of Pakistan. The institution was started functionality in the year 2012. The first batch of the institution was enrolled in 2012. It is the only public sector healthcare institution in Islamabad. The institute offers medical healthcare degree.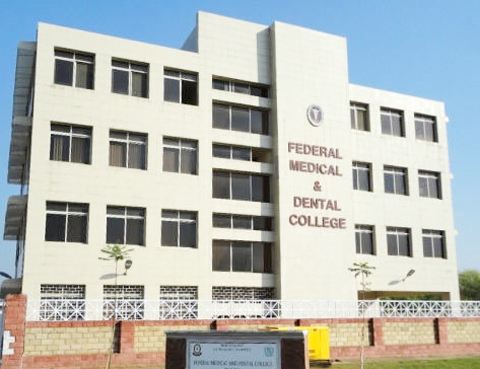 Federal Medical & Dental College Admission 2022 Last Date for MBBS, BDS and DPT
FMDC Admission 2022 for MBBS
(new date for 2022 are coming soon)
Admission Start from August 31
Last Date of Form Submission Sep 14
Entry Test Octo 11
The result of NTS Test Octo 16
Get Online Admission through NTS website and pay Rs 550/- through deposit slip in ABL, HBL, UBL, MCA
Affiliations and Recognition:
FMDC Islamabad has many affiliations and recognition. The degree of the institute is affiliated with Quaid e Azam University Islamabad. The institution is recognized by Pakistan Medicals and Dental Council commonly known as PMDC, which is a regulatory authority for medicine and dentistry students in Pakistan.
Faculties and Departments:
The institute is running two main faculties in the campus. One is faculty of medicine and other is faculty of dentistry. Both faculties have many further sub-departments. The faculty of medicine has 18 departments, on the other side the faculty of dentistry is running 10 departments. The hierarchy of both faculties is
Faculty of Medicine:
Anatomy
Biochemistry
Physiology
Pathology
Pharmacology
Community Medicine
Forensic Medicine
Medicine
Surgery
Radiology
Obst & Gyane
Neuro Surgery
Orthopaedic
Ophthalmology
ENT
Pediatrics
Urology
Dermatology
Faculty of Dentistry:
Oral Biology
Oral Pathology
Oral Medicine
Community Dentistry
Dental Biomaterials
Oral & Maxillofacial Surgery
Operative Dentistry
Orthodontics
Periodontology
Prosthodontics
How to Apply for FMDC (Federal Medical & Dental College Islamabad):
FMDC offers admission through NTS test. Application forms and online deposit slip available at the official website of NTS (www.nts.org.pk). The candidates are required to send the application form on the prescribed forms along with the NTS copy of online deposit slip to NTS through courier or mail. Applications by hand will not receive at the NTS office. NTS will upload the result of the entry test at their website. There are 50 annual enrollments and the quota of all provinces is available as per government criteria. Sample papers are also available at the website of the NTS but the samples will not show the actual number of questions in the entry test.
FMDC Eligibility Criteria:
For admission, the candidate must be passed the higher secondary school certificate with at least 60% marks. The HSSC must be in the Pre-Medical group. International or foreign students are also eligible for admission. They are required to provide the equivalent certificate. The equivalent certificate will be issued by the authority of Inter Board Chairman Committee Islamabad. MBBS classes may be started from NOV-DEC and the classes of BDS may start in DEC or JAN every year.
Must Check top Medicals Colleges in Pakistan:
Thanks for visiting our site which is compatible of Universities Admissions and details. We provide the best information about FM&DC Islamabad Admission 2022.
Official Site: Federal Medical & Dental College
Type: Federal Government