Candidates get CSS Current Affairs Notes to display an extensive show of their knowledge in the CSS exams, especially in this paper. CSS this subject requires candidates to be updated with general knowledge of history, geography, politics and day to day development of news event. It includes lots of questions especially Pakistan's relation with its neighbor including India, Iran and Afghanistan. How Pakistan maintains its relationship with the World's most powerful countries like America, UK, Russia, and Europe. It is a dynamic subject and student hardly gets competitive Notes from a single source.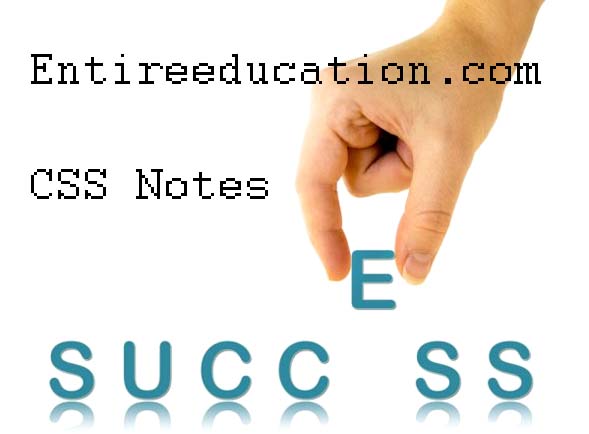 Get CSS Current Affairs Notes For Preparation 2022 For Exams
What is Current Affairs?
Current affair is all about latest happenings in Pakistan and world. It includes hot topics in the world including economy, politics, social issues and the relation of Pakistan with rest of the world. Current Affair is a compulsory subject of CSS and consists of 100 marks. CSS aspirants have to get themselves prepared reading lots of books, newspapers, and columns to keep themselves updated with the latest news and updates.
Get CSS Current Affairs Notes Importance:
It is a compulsory subject and high scoring subject. Getting passing marks in the current affairs paper will not help any student for qualifying into a particular service group. It is necessary for students to be connected with the world, keep an eye on the drastic changes and study geographical dynamics to attempt the paper in the right manner. It is essential for a successful bureaucrat to know what is happening and what will happen in coming years. So, a student has to think like a bureaucrat to attempt the paper and gain sufficient knowledge to qualify the paper.
What to do with Degree?
Thought, it doesn't matter whether you have a degree in this subject or any other specialization. You can still make your efforts to get a hold on the subject with hard work and dedication. However, there is no need of a specialized degree in journalism or current affairs to appear for the competitive exams.
Current Affairs for Competitive Exams
Attempting for competitive exams is all about the test of memory. It depends on student how much information he absorbs during the preparation and how effectively he recalls this information on time. It wouldn't be wrong to say that cramming current affairs would be helpful for you to appear in the Competitive exams. You need to be sharp in remembering dates of latest events happening around the world, the name of heads of the states, world's celebration of days in a wide range of categories including business, sports, money, politics, education and science as well. The questions can be from any part of the topic and you have to answer it briefly in the exams.
Get CSS Current Affairs Notes Branches:
This subject is not specific and a broad subject consisting of various branches. It is important to mention here that all the branches of current affairs are not necessarily linked to it. Some of the major branches of current affairs are:
News
Country
World
Sports
Business
Fashion
Culture
Politics
How can we Prepare for CSS Exams?
Interestingly, lots of CSS aspirants face the same dilemma when they think of preparing current affairs for CSS Exams. Some start from searching current affairs notes for preparation while others rely on books and handouts provided to them by academy. This subject is a different type of paper and you need to focus on a different approach to preparation this subject for the CSS. First of all, you should study the daily newspaper particularly the cover pages with the highlights, columns, and analysis of experts on different issues. You can subscribe to the news from international websites, study world's crisis, wars, major economic and political developments across the world. Getting historical facts about different issues would be beneficial for the CSS exam preparation.
Call Now: 0308 4293988, 0331 4019933 For CSS Notes Information and details
Current Affairs Past Papers:
2019
2018
2017
2016
2015
2014
2013
2012
2011
2010
2009
Conclusion:
There is no standard pattern for CSS preparation even provided by CSS regulatory authorities. A student can rely on news, websites, books and plenty of other sources to get the hold on the subject.