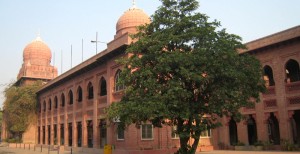 The Global Institute Lahore  records its roots back to 1996 when it began MBA Classes at 39-G, Gulberg-III, Lahore under the auspices of Rahim Education Foundation. It is operating with the mission to render suitable services for the dissemination of market-oriented education to the masses with missionary zeal and zest. It is well-known for related and professional understanding in present-day ambient The Global Institute Lahore is in existence to the reality of highest possible exposure of students to the present and existing features in the educational set up. The city campus of the Global Institute Lahore is sufficiently spacious having a well lit building and colon atmosphere that is particularly conducive to the promotion of academic programs. New Campus, as most current addition, will enormously increase the facilities on most modern pedagogical lines.
Important Admission Date for Faculty of Management Sciences, Commerce and Information Technology
Admission Start from 23-08-2021 to 25-08-2021 at Education Expo in Expo Centre.
Degree Programs
Master Level Programs
Master of Business Administration (Proff)
Master of Business Administration (Even)
Master of Computer Science
Master of Business Economic
M. Sc. Accounting & Finance
M. Sc. Electronic Commerce
Specializations
Bachelor Level Programs
Bachelor of Business Administration
Bachelor of Computer Science
Bachelor of Business Economic
B.Sc. Accounting & Finance
B.Sc. Electronic Commerce
Associate of Certified Chartered Accountants(ACCA)
Specializations
Intermediate Level Programs
I.Com
F.A / F.Sc.
Diploma in Business Administration
Diploma in Computer Application
Diploma in E-Business
Diploma in Accounting & Finance
Certified Accounting Technician(CAT)
Mature Level Programs
Business Management
Human Resources Management
Information Technology
Office Management
Project Management
Quality Management System
Import & Export
Buying House Management
Change Management
Marketing Management
Supply Chain Management
Customer's Relation Management
Advertising & Promotion
Brand Management
Cost Management
Islamic Banking
Forex Management
Inventory
Taxation Management
Buying House
Merchandizing
International Markets and Textile
Accounting for Non Accountants
Business Communication
Admissions
Requirements
General Conditions (will be regulated through HEC Rules & Regulations).
Eligibility Conditions – As prescribed: Past academic record and related experience after Graduation, if applicable, as per HEC requirements.
Personal Interview: To determine the interest of students in the preferred program.
 Entry Test.
Applicant has to appear in designed Aptitude Test on the nominated date. The test is separated into three portions i. e. of English, Mathematics & General Knowledge in case of programmes of Department of Management Sciences / Commerce; English, Mathematics and Physics in case of programmes of Information Technology Department.
Finally after acquiring the positive response, the student has to downpayment the fee which is the confirmation of his enrollment.
Admission Fee & Registration. This is paid at the time of admission and is non-refundable.
Tuition is to be paid before the start of each semester.
Visits to Admission Office.
Prospective applicants / students are welcomed individually or in groups to visit Admission Office which is open 9: 00 a. m. to 9: 00 p. m on all working days except Sunday / Gazetted holiday.
Facilities
Sports actions are also prompted. There are several in-door games which students enjoy at campus. Table-Tennis and Bad Minton is played out in institution premises. Outdoor games are Cricket and Net-ball. Winning students of Annual sports competitors are honored shield and trophies. Sports Day is applauded as an important event.
Get latest updates of Admission of Global Institute Lahore
Thanks for visiting our site which is compatible of Universities Admissions and details. We provide the best information about Global Institute Lahore Admission 2021.
Official Website: Global Institute Lahore
Founded: 1996