Introduction, Islamabad Medical College Admission 2020 Last Date & Fee Structure:
Islamabad Medical and Dental College is situated in the country's capital, Islamabad. With a campus distributed over 65 kanals at the foothills of the panoramic Margalla hills. Islamabad Medical College admission offers a healthy and open environment for teaching physicians uniquely well prepared to exercise 21st century medicine.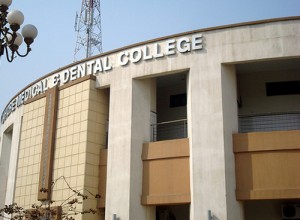 College is linked with the globally most respected Bahria University and is identified by Pakistan Medical and Dental Council and Ministry of Health (No. F-3-10/2007-MER dated 13th August, 2007). for MBBS and (No. F. 3-46/2008-MER dated. 24th December, 2010) for BDS.
Important 2108 Admission Date for MBBS/BDS
Last Date of Form Submission Sep 30
IMDC Entry Test Octo 18
Bashir Paramedical Institute Islamabad
Important 2020 Admission Date for DPT, BS 4 Years in Medical Lab Technology, Dental Technology, Anesthesia Technology, Surgical Technology, Ophthalmology Technology, Radiology Technology, Cardiology Technology, Emergency and Intensive Health Care
Last Date of Form Submission Sep 30
Islamabad Medical College Admission Departments:
Anatomy
Biochemistry
Physiology
Pathology
Pharmacology
F.Medicine
C.Medicine
Gynae & Obs
Medicine
Surgery
Opthalmology
Department of Anatomy:
Anatomy is an important subject of basic sciences. It showcases not only the Gross Anatomy but has expanded its horizon to Microscopic Anatomy (Histology), Developmental Anatomy (Embryology), Applied Anatomy, Molecular Anatomy, Surgical Anatomy and Radiological Anatomy which has produced marvelous interest in Gross Anatomy due to advancement of new radiological modalities like ultrasound, CT Scan, PET Scan and.
Department of Biochemistry:
Biochemistry is an essential subject of basic Medical sciences protecting essential topics with regards to the chemistry of life and any penalties in case of mutation or deficiency. Students are trained the chemical operations taking place in living organisms which include structure, function and metabolism of cellular factors such as proteins, carbohydrates, lipids, nucleic acids and other bio-moleculesis studied.
Biochemistry has its scope from procedure to molecular level, as there can be no defined line in between biochemistry and molecular genetics. Structure and function of genes are trained to gain an understanding of a disease and its effects that include clinical genetics and techniques for gene therapy.
Department of Gynae & Obs:
The department of obstetrics & Gynaecology is advancing by Prof. Dr. Khalida Waheed and comprises 2 associate professor, 2 assistant professor and 2 senior registrars. The department capabilities a faculty with comprehensive educating knowledge both the under-graduate and post-graduate levels. The faculty is also concerned in organizing programs and examination with overseas businesses such a the Royal College of Obstetrician & Gynaecologists. Their clinical interests span secondary and tertiary obstetrical care, gynecological oncology, infertility, Public Health Obstetrics & Gynaecology and medical education. Medical students come to the hospital for involved teaching for undergraduates. There is 2 lecture hall with the supply of multimedia. The library is surrounding to the lecture hall and is fully equipped with IT conveniences.
Department of Medicine:
Department of medicine is advancing by Professor M. Naseem Ullah, who gives vast, rich experience of educating at under graduate and post graduate levels, being the ex-principal and Head of Department, Rawalpindi Medical College, is leading department of medicine IMDC to accomplish at its best. Medicine is one of the-the majority of important divisions of medical sciences. In the last 50 years, medicine has taken leaps and bounds for the advancement of the health of mankind. As modern medicine has offered unique possibilities for cure and control of diseases around the globe. There is a constant process of research and up gradation of medical support to troubled humanity and there is a constant stride to strengthen it.
Department of Surgery
Surgical Department is advancing by Prof. M. Iqbal. The department comprises of general surgery, urology and orthopaedic surgery, to deal with major catastrophe and ellective surgeries. The unique areas of fascination are endoscopic and laproscopic, common and urological procedures. The Orthopaedic department has exclusive abilities in endoscopic joints and replacement surgeries. The department of surgery is a crucial dicipline in the field of medicine. The faculty consists of experienced teaching staff have the ability to implement training strategies and curriculum with modern key points and thoughts.
Department of Opthalmology:
Department of Opthalmology is in the direction by Prof. Naqaish Sadiq. PESSI hospital has a well-outfitted Eye department. The department comprises of an eye out-patient department, a role-specific eye theatre and an infirmary for admission. Eye OPD is well outfitted with contemporary gadgets like slit lamp, auto refractometer, applanation tonometer, indirect and direct ophthalmoscopes etc.
Islamabad Medical College Admission:
Admission Procedure:
Candidates should submit along with the application form a complete record of school and college academic achievements including mark sheets which must be certified by the principal of the concerned Islamabad Medical College Admission.
The academic record submitted by the candidate will be scrutinized. Incomplete applications would not be entertained.
All student applicants who will be presented admission shall be recommended to sign and implement legal documents such as bonds/undertakings, sureties in accordance with the rules of the College.
Successful applicants will glimpse for an appointment prior to final selection.
Islamabad Medical College Admission, Who can apply?
The applicant should have exceeded the Intermediate Science Examination(F. Sc Pre-Medical Group) with subjects (Biology, Chemistry, Physics) securing at least 60% marks in aggregate.
OR
Any other examination of a Foreign University (A-Levels) comparative to the Intermediate Science Examination (Pre-Medical Group) of a Pakistani Board.
How to apply?
All applicants shall complete the application form surrounded within the prospectus in their own handwriting and submit same to the Admission Cell, College either in individual or by registered post within due date.
No of seats:
There is a whole of 100 seats for MBBS and 50 for BDS which is open to all national and foreign students with comparative qualification, subject to transferring the entry tests and as per College policy.
English Language:
The understanding of English language is an important part of the plan as the medium of instruction is English. On the other hand, an international student will, consequently, submit a supplemental certificate to the effect that the applicant can read/write and speak English fluently.
Essentials:
Matric/Senior Cambridge or equivalent certificate.
FSc. (Pre-Medical) or equivalent certificate
Detailed marks sheet F.Sc. (Pre-Medical).
12 recent passport size coloured photographs.
Character certificate from the principal of the last attended the institution.
Expatriates /Overseas /foreign applicants their parents /guardian to provide an evidence of residing outside the country.
Islamabad Medical College Admission Fee Structure:
Fee Structure for MBBS:
Please Note:
College has the authority to augment fee and dues as deemed necessary.
Refund Policy
Admission Fee is non-refundable once deposited.
Tuition Fee is refundable as per PMDC policy.
Hostel Fee is non-refundable after joining.
Fee and dues are to be deposited in advance as communicated to the student for every academic year.
Facilities:
Library:
The college has a commodious and air-conditioned library with a panoramic perspective of the Margallah Hills towards its North. At current, after introducing some individual computer carrels, the library can easily cater to 100 students.
The library consists of more than 8, 600 books on a variety of disciplines of Medical Sciences. Besides Medical Sciences, Pakistan Studies, Islamic Studies, General Knowledge, Reference and literary books are also available in the library. The library has been well-outfitted with the most current text and reference point books in Basic Sciences. The most current books on all Medical subjects are accessible in multiple copies of Clinical Sciences.
Get latest updates of Admission of Islamabad Medical and Dental College
Thanks for visiting our site which is compatible of Universities Admissions and details. We provide the best information about Islamabad Medical and Dental College Admissions 2020.
Official Website: Islamabad Medical and Dental College
Founded: 2007

Type: Private school of medicine and dentistry