Indus Valley School of Art and Architecture Admission 2021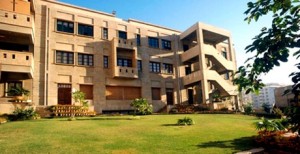 In an get older of speedy social, technological and functional transition, we feel fully committed to educating our students with the capacity to evaluate and critique practical knowledge, and to nurture their resourceful capabilities so they become productive, excellent affiliates of our society, both individually and appropriately.
Programs
Foundation Studies
 Architecture
Interior Design
Communication Design
Textile Design
 Fine Art
Liberal Arts
Postgraduate
Admissions
The Indus Valley School of Art and Architecture searches for to enroll remarkably stimulated and accomplished students from assorted backgrounds. Admission to the Indus Valley School is made stringently on merit established through an aptitude test, accompanied by a solar panel interview.
The scholastic necessity for eligibility;
 Undergraduate Degree program is Intermediate pass with "C" grade or A- Level with a minimum "D" in 2 subjects other than English, or an comparative Foreign Baccalaureate.
Postgraduate is a recognized Bachelors degree in any discipline.
Diploma an Second time beginners pass with C-grade or A-Level pass. Candidates without having instrument but relevant equivalent practical knowledge are prompted to apply.
The school also gives financial assistance, in the variety of Qarz-e-Hasna, an interest-free loan.
For additional details, potential students are delightful to visit the School, where the
application form and prospectus can be attained. For students from outside Karachi,
It would be beneficial to get an orientation of the city as effectively.
Fee Structure
Postgraduate Fee Structure
Security Deposit
Payable on Registration; refundable after adjustment, if any, when the student leaves School

Rs. 10,000

Processing Fee payable along with the completed Application form

Rs. 3,000

Admission Fee Payable on Registration
Fee per Semester (Payable on Registration)

Rs. 30,000

PGD Textile Design

Rs. 125,000

PGD Apparel Design

Rs. 125,000

PGD Photography

Rs. 125,000
Degree Fee Structure
Application form With prospectus
Rs. 1200.00
Processing Fee
Payable along with submission of application formProposed Fee Structure for 2012
Rs. 2,500.00
Admission Fee
Payable on Registration
Rs. 40,000.00
Fee per semester
Payable at Registration
Rs. 97,500.00
Contribution to Endowment Fund
Per semester, payable on Registration
Rs. 3,500.00
Security Deposit
Payable on Registration; refundable after adjustment, if any, when the student leaves School
Rs. 10,000.00
Library
The Marium Abdulla Library was organized when the Indus Valley School of Art and Architecture was started in 1989. The Library houses roughly 9500 books, which include 950 dissertations structured on investigation work carried out by the IVS students each year and over 10, 000 slides on the subjects being trained at the School. The Library also has a membership of over 30 foreign and local journals/magazines.
Thanks for visiting our site which is compatible of Universities Admissions and details. We provide the best information about Indus Valley School of Art and Architecture Admission 2021.
Official Website: Indus Valley School of Art and Architecture (www.indusvalley.edu)
Founded: 1989
Type: Private