Jinnah University for Women admission is offered two times a year which benefit the students a lot so that the students don't get admission for the first time. Due to any cause may have a chance to get admission in the second time. So that they shall continue their higher studies without any interruption. Jinnah University for Women Karachi is the best institution for the girls to get a higher education. This is the institution which provides quality education at a very reasonable cost this university is exclusive to the girls. So that parents not allowing their girls to study with the boys means to get co education should easily study and get higher education in this institution. This is one of the renewed institution for the higher education in Karachi. Karachi is a great city and to fulfill the knowledge need of large city more institutions are needed, and this university is one of that college. Which meet the dream of many girls to get a higher education.
Jinnah University For Women Admission BS, MS, M.PHIL, PHD 2022 Last Date
Jinnah university admission is truly based on merit basis so when opened apply if you think you are fulfilling its eligibility criteria. JUFW admissions were providing education in every field at under and post graduate level. And a quality education is provided by the hardworking and dedicated teachers at a reasonable cost.
Admissions are opened Now
Programs Offered for Admission
The institution offers a variety of programs at undergraduate and postgraduate level by the well educated, trained and qualified teachers. So that quality education is provided to the students. Due to which they increase the literacy rate of the country and making girls the educated part of the country so that they share an equal part in the prosperous of the country. JUFW is producing girls that actively take part in every field of life means stand equally with boys at every level.
Jinnah University For Women Admission In BS, BSC, BA Programs
Jinnah University admission at the undergraduate
level is a great selection made by the student because this was the level when the student entered the university life that is entirely different from the college standard. So choosing this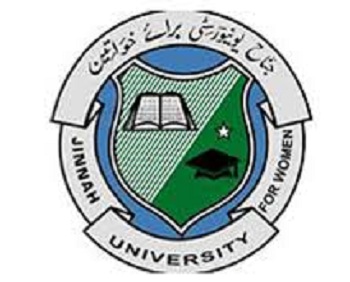 institution will make her field that this life is a golden time of students life. This is the first step of the student towards its practical life one may make or ruined its life just by making the correct decision at this level not only selection of institution matters but the selection of correct subject according to ones own interest and caliper may make its life better.
So selection at this level is not just based on one's own decision but she may get advice about this from anyone else like any elder, or experienced person or internet is the best source. You should select subject then check its scope at national and international level check out jobs related to its. Which helps you to decide weather your selection is correct or not.
BS,BA ,BSC
All these subjects were offered in a variety of subjects like arts, a science which was both natural and applied sciences, management sciences, humanity groups, law and international relations.
Jinnah University For Women Admissions In MS , M.PHIL, PhD
Post graduate level is the higher level of education very few students change their field of interest here most of them continue to study the same subject as studied before. So here selection of subject doesn't matters but the selection of institute matters a lot because at this level more practical work is needed like thesis research and for all these purposes proper guidance and proper environment for this is needed. Means well-equipped research lab so that every process should be tested and practiced in it.
So that this produce fruitful results for the country and make it to progress a lot. And make the worlds realize about the talent present in the country. This level is the end of education for most of the students. So this should be of great importance in a students life after this practical life starts for most of the students. So always try to work hard and great something better for the society.
MA, MSC, M.PHIL, MS, PhD
Programs Offered At Undergraduate And Postgraduate Level
Natural sciences: (botany, zoology, chemistry, physics, maths, economics, statistics, English)
Applied sciences: (pharmacology, biochemistry, microbiology, biotechnology, anthropology, archeology, criminology,  geology, food and nutrition sciences)
Management sciences: (BBA, MBA finance, MBA executive)
Commerce sciences: (B.COM, M.COM)
Arts: (Urdu, Islamic studies, Pakistan studies, international relations, mass communication)
Law: (LLB 5 years and LLB 1.5 years)
Eligibility To Get Jinnah University For Women Admission
Students have 45% marks in the previous degree. Applicant should not be rejected before from any university or CGPA should not be less than 2.5 and not giving and wrong information. Not be failed in any of the subjects in the previous degree. Passing the conducted test is very important for applicant's admission. This test is conducted by the university to test the applicant caliper. So result of this matters a lot to get Institution.
Ineligibility To Get Jinnah University For Women Admission
A failed student in the previous degree:- Student rejected before due to any reason or applicant providing wrong information to the institution is totally in eligible to get Jinnah university admission.
Before Apply admission also see: Federal Urdu University Karachi, NED University Karachi, FAST University
How To Apply Jinnah University For Women Admission 2022
Announcement for the admissions is made by giving advertisement in the newspaper or official website.
The student must visit the institution to register herself.
Take registration form with the prospectus from the university.
After submitting the duly filled form, you should get the admit card. For the test on which test date is mentioned.
Applicant must appear in the test on the announced date, day and time and perform well in it.
Than interview is conducted by the university.
After that merit list is displayed on the university campus and official website of the Institution.
The selected student again visits university to enroll her self and submit original document along with the form.
Jinnah University for Women Fee Structure
For All Programs
Enrollment fee Rs 1000
Development fee  Rs 2000
Security deposit  Rs 1000
| | | | |
| --- | --- | --- | --- |
| SR.NO |   PROGRAMS |   PER SEMESTER FEE (Rs) |  1ST SEMESTER FEE (Rs) |
| 1 | BS (Islamic learning) | 14,000 | 21,000 |
| 2 | MA | 15,000 | 22,000 |
| 3 | BS (Education, International relations) | 20,000 | 27,000 |
| 4 | MA | 21,000 | 28.000 |
| 5 | BS (English) | 33,000 | 40,000 |
| 6 | MA | 30,000 | 37,000 |
| 7 | B.ED | 16,000 | 23,000 |
| 8 | M.ED | 17,000 | 24,000 |
Admission Fee For Above Mentioned Programs is Rs 3,000
| | | | |
| --- | --- | --- | --- |
| SR.NO | PROGRAMS |  PER SEMESTER FEE (Rs) |  1ST SEMESTER FEE (Rs) |
| 1 | BS (Visual Studies) | 44,000 | 52,000 |
| 2 | BS (Biotechnology) | 35,000 | 43,000 |
| 3 | BS (Microbiology) | 39,000 | 47,000 |
| 4 | MSC | 35,000 | 43,000 |
| 5 | BS (Chemistry) | 23,000 | 31,000 |
| 6 | MSC | 24,000 | 32,000 |
| 7 | BS (Biochemistry) | 29,000 | 37,000 |
| 8 | MSC | 27,000 | 35,000 |
| 9 | BS (Food Science & Technology) | 42,000 | 50,000 |
| 10 | BS (Zoology, Botany) | 20,000 | 28,000 |
| 11 | MSC | 20,500 | 28,500 |
Admission Fee For Above Mentioned Programs is Rs 4,000