Pakistan Army is best serving force in the world. Have trust and faith in Allah. Pakistan Army the renowned force in the world covered the surrounding of Pakistan. Scarify for the safety Motherland and Nation of Pakistan. Our aim is to provide to aid to each single area of Pakistan and other Muslim countries. Moto of strongest and brave men of the world is Iman, Ithad and Taqwa, Jihad-fi-Sabilillah. Man of Steel of serving nation in great manner. In infantry group its have five more sub-groups of army are as follow:
Punjab Regiment
Baloach Regiment
Frontier Force Regiment
Sindh Regiment
Azad Kashmir Regiment
Northern Light Infantry Regiment
Important 2022 Induction for 139 PMA Long Course 😀 
Registration Start from 06 April to 06 May
Entry Test held from 11 May to 10 July
Important 2022 Induction For Corps of Engineers, Signals, Ordnance, Electrical & Mechanical Engineers, Army Education Corps & ICTO
Registration Start From 05th Jan
Last Date of Registration 30 Jan
Preliminary Test held from 11 to 24 Feb
Entry Test:
Engineers & Signals 11-12 Feb
Ordnance 13 & 16 Feb
EME 17018 Feb
AEC 19-20 Feb
ICTOs 23-24 Feb
Important 2022 Induction Date for GDMO as Captain, Classified Specialist as Major and Pakistan Temporary Commission PTC Officer Male as Captain
Registration Start from 1st Jan to 30 Jan
Preliminary Tests will be held on 3rd for GDMO (Male, Female),4th Feb for (PTC Officers Male) & 6 Feb for Specialists (Only Intelligence/Personality Male/Female)
Important Registration Date for Soldiers
Registration Start from 13 Octo
Last Date of Registration is 31 Octo
Types of Commission:
Regular Commission:
PMA Long Course
Technical Cadet Course
A M Cadet Course
Short Service Regular Commission:
Classfied/Specialists
AFNS (General Nursing)
Direct Short Service Commission:
Psychologists
Singal-ICTOS
RV & FC
Soldier Recruitment
How to Join Pak Army As Captain Female:
Pakistan Army published ads on newspaper for all recruitment. A specific date will announced for registration and entry test date will be mentioned on roll number slip. You would register you through online and submit amount on selection center when you went to selection centre on the day of test.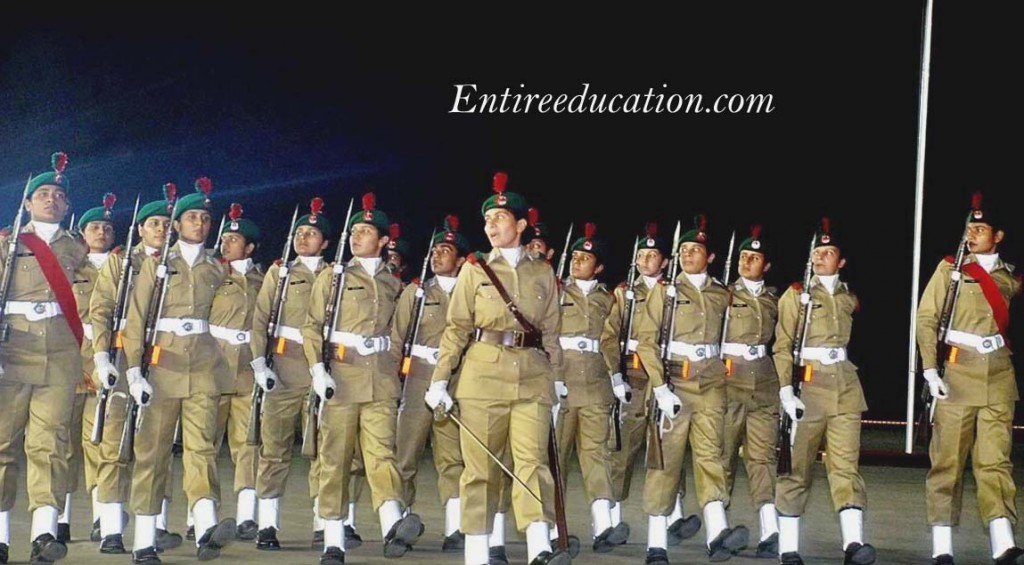 Test Pattern for PMA:
96 Verbal Intelligence 30 minutes
96 Non-Verbal 30 minutes
40 General Knowledge Questions 40 minutes
Army Recruitment and Selection Centers:
Rawalpindi
Telephone No: 051-9271393
Address: Roomi Road Opposite Transit Camp Rawalpindi Cantonment.
Peshawar
Telephone No: 091-9211747
Address: Shabzada Gul Road Opposite PAF Cinema Peshawar Cantonment.
Lahore
Telephone No: 042-99221052
Address: Shami Road Near Fortress Stadium Lahore Cantonment.
Hyderabad
Telephone No: 022-2787796
Address: Near Gul Centre Hyderabad Cantonment.
Karachi
Telephone No: 021-32790919
Address: Main Shahra-e-Faisal near Station Headquarters Karachi Cantonment.
Quetta
Telephone No: 081-2836626
Address: Zarghoon Road Opposite Serena Hotel Quetta Cantonment.
Gilgit
Telephone No: 05811-920535
Address: Gilgit Cantonment.
Multan
Telephone No: 061-4545311
Address: Tipu Sultan Road Multan Cantonment.
Information about any queries in your mind leave a comment or text message from mobile and Cell number will display on About US of website in the box get in touch with entiretest.com
Website: Join Pakistan Army
Founded: 1946
Type: Government