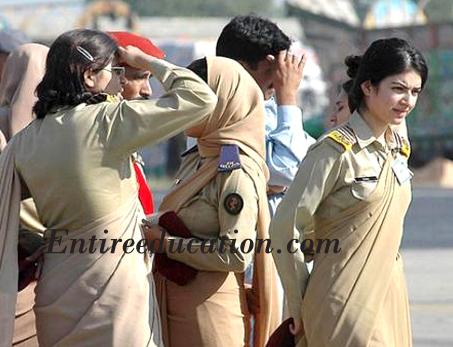 Join Pakistan Army as GDMO
The medical profession is a highly respectable and paying profession in Pakistan and contributes a significant amount to the national income. Pakistan has lots of talent and majority of these talented people want to start their career in the medical profession, but they don't get any opportunity in this field. If you are one of them, who wish to start a medical related profession, then joining Pakistan army as a medical office is the best decision you can take. The Pakistan Army is a land of opportunities to the talented youth to join the Pakistan Army as a Gynecologist, Surgeon, Pathologist, Surgeon and General Duty Medical Officers.
General Duty Medical Officers/Major
Applicants are offered following ranks according to their specialization as Captain and Major in Pakistan Army:
Captain rank is offered to all male and females for the general duty medical officers.
Captain rank is also granted to the female dental surgeon.
Major rank is offered to the specialist in medicine, gynecology, anesthesiologist and pathology.
Important Admission Date for GDMO as Captain, Classified Specialist as Major and Pakistan Temporary Commission PTC Officer Male as Captain
Registration Start from 1st Jan to 30 Jan
Preliminary Tests will be held on 3rd for GDMO (Male, Female),4th Feb for (PTC Officers Male) & 6 Feb for Specialists (Only Intelligence/Personality Male/Female)
Required Qualification:
Applicants with minimum 28 years of age with minimum MBBS or equal qualification, which must be recognized by the Pakistan Medical Association, are eligible for General Duty Medical Officers (GDMOs).
Applicants with at least 28 years age with a bachelor of Dental Surgery or the equivalent qualification accepted by Pakistan Dental Association with a year house job experience in any institution recognized by PMDC.
Applicants with minimum 32 years age with MBBS or higher qualifications like FCPS or FRCS with the specializations.
Additional Criteria:
Preference would be given to those applicants who qualified from government institutions.
Candidates waiting for the results can apply for the hope certificates with the signature of their issuing authorities and the certificates must be submitted to the directorate before the deadline.
The age relaxation of five years shall be granted to the candidates for all the ranks.
Marital Status:
All qualified males and females can apply in the Pakistan Army for short service commission.
Nationality:
All the citizens of Pakistan, including those having domicile of Azad Kashmir and Gilgit-Baltistan. Dual nationality holders will give up their foreign nationality for final selection in the short service commission.
Ineligibility of Candidates:
A candidate stands ineligible if he is twice rejected by the Inter Services Selection Board (ISSB) for JCA / OTS / PMA course or by PAF courses. However, candidates with higher qualification will be considered eligible.If an Appeal Medical Board declares a candidate as permanently unfit.
A candidate is expelled / withdrawn from any training academy / institute on any ground by the Armed Forces.A candidate is expelled / withdrawn from any Armed Forces on a disciplinary basis.
A candidate is removed / dismissed from the Armed Forces or Government Service.A candidate with the positive test of hepatitis A, B or C are considered ineligible.If a candidate is declared unfit from the Armed Hospitals are ineligible.
Register Yourself For Preliminary Selection:
Candidates are given two options for getting registered, they can get registration by simply visiting the recruitment and selection center in your area or they can use the official website for the reason. The following method will be used for selection of applicants:
Registering By The Internet:
Candidates can register at www.joinpakistanarmy.com the official website. Individuals will be intimated about a test and date time at their email addresses. All the applicants have to submit copies of their documents and deposit prospectus fee at the respective recruitment and selection centers. Foreign Pakistanis can apply through the consulate general of Pakistan and all the applications will be forwarded to the Pakistan Army Directorate through the consulate general for further consideration and scrutiny.
Written & Intelligence Tests:
Candidates will be tested for written and intelligence tests, those who qualify the tests will be further considered for final selection by the board.
Also See: Join Pakistan Army as Doctor
Thanks for visiting our site which is compatible of Universities Admissions and details. We provide the best information about Join Pakistan Army as GDMOS Specialist Doctors Induction 2020.
Official Site: Pakistan Army
(adsbygoogle = window.adsbygoogle || []).push({});
Founded: 1947