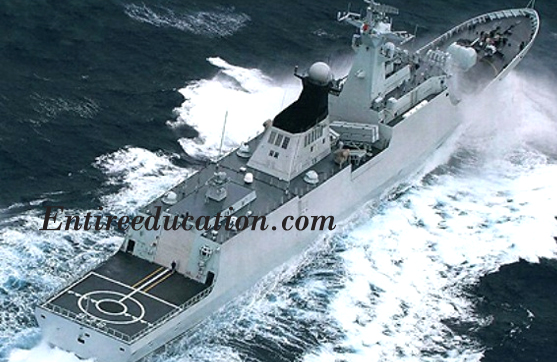 Join Pakistan Navy Officer through Short Service Commission
Pakistan Navy is one the prestigious organization committed to ensuring the defense of Pakistan borders through the sea. Pakistan Navy inducts Naval Officers through short service commission to make them able to serve their motherland. The Navy provides training in the field of education, prepare them mentally and groom the skills of the cadets and develop them as professional  Naval Officers. The Pakistan Navy inducts professional officers of the operational branch, education branch, information technology, weapon and marine engineering, medical and supply chain branches as well. After a successful one and half year training at Pakistan Naval Academy (PNA), cadets get the rank of midshipmen and join shipping department for further education and training. At fleet, they will be given an experience of living at sea while learning new things in different areas abroad. After completion of 6 months training on the ship, the candidates will be granted the rank of sub-lieutenants. All the candidates will be provided with free messing, uniform and accommodation during the training period.
Join As Professional Officer Through Short Service Commission In Pakistan Navy 2021
Short Service Commission Branches:
Operation Branches Marines & SSG(N)
Special Branch-IT Specialist Male/Female Both
Special Branch Industrial Electronics
Ordnance Branch
Marine Engineering
Special Branch Computer Systems & Software Engineering
Medical Branch Specialists Male/Female
Branch Male/Female Both
Education Branch Psychologist
Important 2021 Induction Date for GDMOs
joining dates for 2021 are upcoming soon
Registration Start from 02 March
Last Date of Registration 15 March
Operational Officers:
All the sub-lieutenants will join Naval colleges for two and half years for the specialized training in different branches. All the candidates will be able to earn an engineering degree in electronics from National University of Science & Technology during the 2 ½ year training program. After completion of graduation in engineering, all the professional officers will undertake professional courses from different schools in the following courses:
Communication
Surface Warfare
Electronic Warfare
Operations & Navigations
Underwater Warfare
NBCD:
After completing professional courses and engineering degree, all the officers will be appointed on-board ships for getting their certificates in watchkeeping.
Officers Training at Mechanical Branch:
Officers join mechanical branch for further training of 2 ½ years at Pakistan Naval Academy engineering college in the field of mechanics. The training program will earn them Bachelors in Mechanical engineering from the National University of Science & Technology.
Officers Training at Logistic Branch:
These officers will join the school offering training in the logistics and management, which is affiliated with Pakistan Naval Academy and Institute of Business Administration Karachi. This training program will earn them a BBA (Hons) degree in logistics management and then, later on, join ships for obtaining competency certificates.
Conditions of Pak Navy Eligibility of Candidates:
All the Male/Female candidates with 16 to 23 years of age, whether serving candidates or civilians can apply for this.
Only unmarried candidates will be allowed to join the Pakistan Navy.
However, the applicant should fulfill the minimum height (5′-4″) required to be eligible for the induction in this course.
Minimum Qualification:
All the applicants, who desire to join the Navy through the short service commission, should have Matric or HSSC with 60% marks in the following subjects:
Physics, Maths, Chemistry
Maths, Physics, Statistics
Computer Science, Physics, Maths
Candidates Are Considered Ineligible
IF any candidate is rejected by the AHQ, GHQ and ISSB Board two times.
Two times rejected by ISSB. Declared as permanently unfit by any board.In a case, where candidates were tested by the respective board in the period of 1 years are considered ineligible.
A candidate is expelled from the institutes of Armed Forces on any ground. Debarred/Dismissed from the Government Service and Armed Forces of Pakistan.
A candidate, involving in the moral turpitude and declared as convicted by the law.If any candidate is positively diagnosed with hepatitis A, B or C is unfit for the Navy.
If a candidate conceals any fact/information or alters any academic certificate for the purpose of gaining an advantage of being selected by the Pakistan Navy will be declared permanently ineligible for the Armed Forces.
Selection of Candidates:
Applicants, who will pass all the tests, will be further called for the interview. Those, interested in joining Navy should register them with their national identity cards, educational certificates and 3 attested photographs of passport size should visit the Naval Directorate
Thanks for visiting our site which is compatible of Universities Admissions and details. We provide the best information about Join Pakistan Navy Officer through Short Service Commission Induction 2021.
Official Site: Pakistan Navy
Founded: 1947