Khulna University of Engineering and Technology Admissions 2022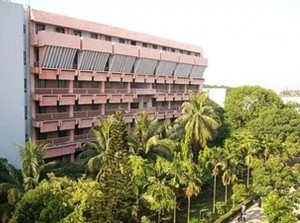 How to Apply?
At Undergraduate level enrollment is made only after a formal combined admission test for all the departments. To sit for the Admission Test one must fulfill pre-specified requirements. The requirements are set by the Admission Committee. Generally admission requirements, rules and the availability of forms are published in the national dailies after the result of H.S.C (Higher-Secondary School Certificate) Examination. A certain number of students are given chance to sit for the admission test according to the cumulative G.P.A. of Physics , Chemistry , Mathematics and English of H.S.C. result
Generally, there are two parts in the Admission
MCQ Test: The students are to sit for MCQ test on Physics, Chemistry, Mathematics and English subjects in H.S.C level. In MCQ test the students are to select the correct answers from the available options. For wrong answer the students have to penalize by negative marking. The students qualified in the test are called for subject choice.
Subject Choice: After qualifying in the MCQ test the students are called for subject choice. In this phase students are to fill up subjects' choice form. The students are allocated in the departments according to their merits in admission test with available seats.
[box type="tick" style="rounded" border="full"]Admissions Offered for 2022[/box]
Fall admission date 2022 will be coming soon
Admission for International Student
Admission Requirement for Foreign Student
The candidate must pass the HSC or equivalent examination in the year 2011.
The candidate must pass the SSC or equivalent examination with at least 60% marks on average basis or equivalent grade.
The candidate must obtain at least 75% marks or equivalent grade individually in Mathematics, Physics and Chemistry, and 60% marks or equivalent grade in English in HSC or equivalent examination.
The candidate must apply through Ministry of Foreign Affairs and Ministry of Education of the Peoples' Republic of Bangladesh.
Eligibility to Apply
Candidate must be a citizen of Bangladesh.
Candidate must pass the HSC or equivalent examination in the year 2011 or obtained 'A' level after November, 2010.
Candidate must obtain at least GPA 4.0 in SSC or equivalent examination from any Board of Intermediate and Secondary Education/Madrasha Education Board/Technical Educational Board in Bangladesh or obtain equivalent grade in equivalent examination.
Online Form Fill upApplication Procedure
Application form should be filled up properly through the assigned website (www.admission-kuet.ac.bd) and submit recent color photograph (approximately 300 x 350 pixel and at most 75 kB in size) and signature (approximately 300 x 80 pixel and at most 20 kB in size) of the candidate. It is recommended to submit both the photograph and signature in *.JPG format. Any writing or attestation on photograph is not permitted. No indistinct or distortion of signature and photograph is accepted. Note that photograph and signature of the applicant will be verified in examination hall.
A PDF version of the application and 'Receipt of Application' marked with A, T or P will be generated automatically. Applicants of this category are requested to follow the instruction mentioned in Step 4.
Thanks for visiting our site which is compatible of Universities Admissions and details. We provide the best information about Khulna University of Engineering and Technology 2022.
Official Website: www.kuet.ac.bd
Founded: 1969
Type: Public, Coeducational