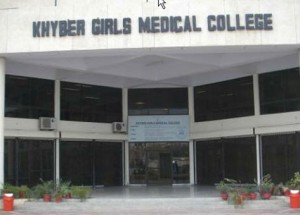 Khyber Girls medical college is first public sector medical institution for girls in Khyber Pakhtunkhwa. The college was established as girl campus of Khyber medical college in 2004. In the year 2005 the institute was declared as an independent medical college. The college started its journey with 50 students of first batch in 2004-05.
The college got recognition from Pakistan Medical and Dental Council (PMDC) in 2008. In same year institute got a teaching hospital for clinical practice of students. Institute offers undergraduate and post graduate degrees in medicine. It is the only medical college in KPK that recognized by PMDC for post graduate degrees.
The building of the institute has very nice infrastructure. The campus has many facilities for students like sports courts, cafeteria, transport, central library with large number of books, auditorium and lecture halls. The campus has also self-learning resource center (SLRC) that was established in 2005. The center was equipped with internet facility that provides up-to-date material to students, faculty members and researchers for helping them in their research.
In coming future the administration of college is looking for some development like extension in the library, female mortuary and construction of new lecture halls for students.
Khyber Girls Medical College Admission 2022 last date
Admission Start from 14-07-2022
Last Date of Online Registration 08-08-2022
Entry Test should be held on 17-08-2022 at 09:00 AM
Faculties and Departments:
The campus has two main faculties that have many further departments. All departments offer courses at bachelors and M. Phil levels. The details of the department are
Basic Sciences
Anatomy
Physiology
Bio-Chemistry
Pharmacology
Pathology
Forensic Medicine
Community Medicine
Clinical Sciences
Medicine
Surgery
Gynaecology
Paediatrics
Ophthalmology
ENT
Radiology
Anesthesia
Paediatrics Surgery
Plastic Surgery
Nephrology
Orthopedics
Dermatology
Psychiatry
Campus also have examination, IT and SLRC departments that provides help other departments in academic and research.
Degrees offered:
KGMC offers various degrees of medicines and surgery at graduate and post graduate levels. Degrees offered by the institute are
Undergraduate
Bachelor of medicine and bachelor of Surgery
Postgraduate
MS or M.Phil in
Anatomy
Biochemistry
Chemical Pathology
Community Medicine
Forensic Medicine
Haematology
Histopathology
Microbiology
Pharmacology
Physiology
Post graduate Diploma in
Teaching hospital:
KGMC has got notification from PMDC about attaching Hayatabad Medical Complex as teaching hospital for institution. HMC affiliated as training and teaching hospital of KGMC in 2006. HMC is 642 bedded hospital with state of the art health facilities in the territory. HMC has various units in which the medical students of KGMC are practicing and also after completion of degree perform their house job.
Official Site: KGMC
Founded: 2004
Type: Public