Introduction, Liaquat University of Medical and Health Sciences Admission 2022 Last Date
Liaquat University of Medical and Health Sciences Admission is to promote superiority in health professional education and research, to instruct and train undergraduate and graduate students of medical and health sciences in compliance with maximum professional standards and ethical values and to match the healthcare demands of the community through dissemination of know-how and company.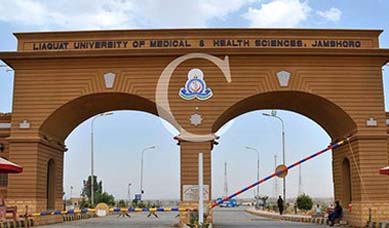 Important 2022 Admission Date For MBBS & BDS
Admission Start from Sep 19
Last Date of Form Submission Octo 10
Date of Entry Test Octo 30
Get Admission Form on payment /- from following branches of HBL:
University of Sindh Old Campus Hyderabad
Saddar, Hyderabad
Jail Road, Hyderabad
Qasimabad, Hyderabad
Shaheed Benazirabad PUMHS
Thatta
Badin
LUMHS Sub Branch Jamshoro
Hala
Tando Mohammad Khan
Tando Allayar
Sanghar
Degri
Umerkot
Shahdapir
Jinnah Postgraduate Medical Centre Karachi
Important Admission Date for Online Diploma in Family Health Care 2022-2023
Application Processing Fee Rs 2,000/-
Registration Fee Rs 1200/-
Examination Fee Rs 22,30 with late Fee Rs 25,30/-
Workshop Fee Rs 6,000
Total Seats 100
Duration 1 Years
Get Admission Form and pay Rs 2000/- along with documents challan for in favor of DFHC LUMHS.
Fee Submitted online in account no. 0072 79 0107740 3 from Pakistan/ PK36 HABB 0000 7279 0107 740 3 from Aboard, HBL, Sindh University Branch LUMSH Jamshoro.
After Admission applicant sends pay order/bank draft of Rs 37,200 a full fee except examination fee.
The application also sent 2 installment 1st is Rs 22,200 and 2nd of Rs 15,000 before a start of Second Session.
Departments:
Department of Paediatrics:
The Department of Medicine, Sindh, Pakistan, is determined to offering quality in educating and research in order to generate competently and confident medical graduates and also postgraduates who will take accountability for their ongoing professional development.
The purpose of the undergraduate program foremost to the degree of MBBS is to educate students in the principles and practice's of Medicine and to present them with the flexibility to continue studying beyond graduation. A variety of educating methods is used to include things like Lectures, Tutorials, Presentations, Projects, Case studies, Ward rounds, Out patient clinics and periods of self-directed learning. Summative assessment methods include written exams, oral exams, clinical exams and constant assessment
Department of Surgery:
The Department of Surgery of  University, Sindh, Pakistan, takes the training of residents and medical students one of its greatest priorities. Its informative objectives for under-graduate and post-graduate surgical medical education are attained by offering ongoing educational services, by implementing & evaluating educational improvements, and by conducting educational research to improve the quality of the medical education process. The Department interests to encourage a constructive and successful educational environment for faculty, surgical residents and undergraduate as well as postgraduate medical students. The department offers collaborative educational packages for medical students, residents, and fellows.
Department of Obstetrics and Gynecology:
The Department of Obstetrics and Gynecology (ObGyn), University, Jamshoro is fully committed to a procedure-oriented, team-driven, multidisciplinary technique to women's health that underscores studying and research.
The objective of ObGyn is 3-fold, to preserve itself as a priceless asset to the University, it's related teaching hospital and its organize partners through Comprehensive clinical care, Dynamic graduate, and post graduate educational programs and Progressive research studies.
Institute of Physiotherapy and Rehabilitation Sciences:
The Institute of Physiotherapy & Rehabilitation Sciences, LUMHS, Jamshoro has been organized in February 2009 under the powerful management of Prof. Dr. Noshad A. Shaikh, Vice Chancellor of University.
There was dreadful want of towards this Institution to provide qualitative medical education interacting with physical therapy for alleviating pain, re-gaining durability and restoring function after serious injuries, illness, and surgery. The course of B. S Physiotherapy is of 04 (four) years. It comprises of practical knowledge of physiotherapy by towards an independent O. P. D. offering occasion of studying by doing practical work to the students of the Liaquat University of Medical and Health Sciences admission.
Entry Test Result/ Merit List 2022:
Merit list will be updated soon.
Thanks for visiting our site which is compatible of Universities Admissions and details. We provide the best information about Liaquat Univeristy of Medical and Health Sciences Admission 2022.
Official Site: Liaquat University of Medical and Health Sciences Admission
Type: Public