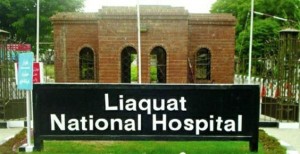 LNMC situated at the core of the city is the most significant non-public sector tertiary care hospital providing the contemporary society for the previous 56 years. This non-profit corporation overlaying an region of almost 53 acres, began with 4 outpatient providers and fifty beds, has now roughly 700 beds with thirty medical and surgical specialties offering equally inpatient and outpatient companies maintaining the traditions of offering known health care conveniences.
Liaquat National Hospital and Medical College Admission 2022
Liaquat College of Medicine & Dentistry Karachi
Important 2022 Admission Date for MBBS (up coming dates soon)
Admission Start from Sep 19
Last Date of Form Submission Octo 07
Date of Aptitude Test Octo 11
Departments:
Department of Diagnostics:
Biochemistry
Haematology / Blood Bank
Histopathology
Microbiology
Radiology
Department of Medical:
Accident & Emergency
Anaesthesiology
Cardiology
Dentistry
Dermatology
Endocrinology
Gastroenterology
General Medicine
Gynaecology & Obstetrics
Infection Diseases
Nephrology
Neurology
Oncology
Ophthalmology
Orthopaedics
Paediatrics
Physiotherapy & Rehabilitation
Psychiatry
Pulmonary Medicine
Rheumatology
Department of Surgical:
Cardiothoracic Surgery
General Surgery
Neurosurgery
Paediatric Surgery
Plastic Surgery
Ear, Nose, Throat (oto-rhino-laryngology), Head & Neck Surgery
Urology
Vascular Surgery
Department of Clinical Support:
Academic Council
Food & Nutrition
Pharmacy
Skills Lab
Social Services
School of Physiotherapy & Rehabilitation
Admissions:
Admission for Liquat College of Nursing:
Application Forms and Prospectus are accessible from Current administration Block LNMC College of Nursing on transaction of For BSc. N Program and BSc N (post RN). Rs. 1500/- for Common Nursing & Pupil Midwife Nurse Midwife Course Rs seven-hundred/-
Eligibility for BSc. Nursing::
Have finished Higher Secondary School Certificate (Intermediate Pre-Medical) with minimal fifty five percent marks.
Male and Female applicants are both entitled to fill out an application with age restriction of 17-30 years
Eligibility Post RN BSc Nursing:
Have finished 3 years General Nursing Diploma Program
Up to date PNC registration
2 years expertise as Signed up Nurse from any identified hospital
OR
1 year expertise as Registered Nurse and 1 year specialization in any nursing discipline
Both male and female applicants can apply
Eligibility for Female General Nursing Diploma Program:
Have Finished FSC (Intermediate Pre Medical) with minimal of 50% marks AND ALSO Metric Science (Physics, Chemistry and Biology is required subjects) with fifty five percent Marks
Female applicants are entitled to apply (Age limit 17-30 years)
Eligibility of Nurse Midwifery Program:
Eligibility for Pupil Midwifery Program:
Have finished Matriculation with forty five percent marks
Female applicants are entitled to apply (Age limit 17-30 years).
Eligibility for MBBS:
Those applicants how have exceeded FSc (Pre-Medical) or Comparative annual or ancillary examination 2010 and annual exam of 2011 having anchored at minimum 60% marks.
Applicants waiting for result of FSc (Pre-Medical) annual examination 2011 can also apply but they have to post a certificate from their LNMC that he/she will secure at least 60% marks in the Intermediate (pre-medical) yearly examination 2011.
Thanks for visiting our site which is compatible of Universities Admissions and details. We provide the best information about LNMC Admission 2017.
Official Site: LNMC
Founded: 1978
Type: Private