Introduction, National Textile University Faisalabad Admission 2022 Last Date
Kohinoor Industries, Colony Textile Mills, Dawood Foundation, and Lyallpur Cotton Mills offered funds to the tune of Rs. 2. 5 million, which were utilized for the development of building and provision of other infrastructure. Every year National Textile University Faisalabad Admission announced in the month of June/July. The Government of U. K. provided the bulk of equipment and machinery, along with the expert services of specialists under Colombo Plan. Field Marshall Muhammad Ayub Khan, the then President of Pakistan, set the foundation jewel of the Institute, on the 12th of October 1959.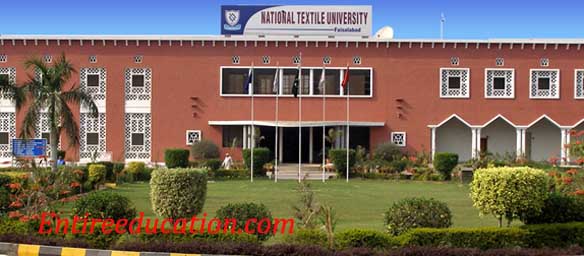 Admission:
Important Fall 2022 Admission Date for BS Textile Engineering, BS Polymer Engineering, BBA, BS Textile Management & Marketing, BS in Textile Design & Technology, BS in Fashion Design & Technology, BS Software Engineering, BSCS
Last Date of Form Submission Sep 15
NTS Test is compulsory for BSCS and Engineering Program
Get Admission Form on payment of Rs 1200/-.
Important 2022 Admission Date for MS Textile Engineering, MS Advanced Material Engineering, MS Computer Science, Ph.D. Textile Engineering, Ph.D. Computer Science, PhD Chemistry, MS Mathematics, MSCS, MBA 3.5 Years, MBA/MS 1.5 Years
Last Date of Form Submission Sep 11
Regular Classes Octo 12
Entry Test held on Octo 18
Get Admission Form on payment of Rs 1000/-.
Departments:
Fabric Manufacturing:
Fabric Manufacturing is a self-sufficient department that focuses its things to do on the coaching of fabric engineers. Each and every attempt is made to provide students with great amount knowledge of fabric creation techniques. The educating actions are carried out by well-qualified and role-specific faculty members.
Garment Manufacturing:
Garment Manufacturing at NTU  Faisalabad is dedicated to serving the needs of students focused on a career in the Apparel industry. Program is designed to provide students with the education and technical skills needed for a career in a fast-paced, exciting, global industry of garment manufacturing.
Polymer Engineering:
Polymer Engineering is comparatively new department which has organized at university  in 2007. It takes in a recognized position in the university. The primarily purpose of towards this department is to offer trained man power to polymer sector in the country.
Textile:
Textile Refinement takes in an prestigious placement in the University . It offers trained man-power to the textile control industry. The department provides a 4-year degree programme through a range of programs overlaying all areas of wet refinement of textile components.
Materials and Testing:
Materials and Testing is determined to offer full assist to the undergraduate and postgraduate students of the University for attaining in-depth awareness of conventional and high efficiency textile products, the methods to consider their physical and chemical properties to ensure high quality of intermediate and end solutions in textile operations.
Applied Sciences:
Applied Sciences at university  is participating in an essential role in acquiring the future textile engineers for the industry. The function of the department is observable from the simple fact that the footing of all technical and major programs is produced through the programs shown under this department.
Scholarships:
Government Internal Merit Scholarship:
Scholarship from Govt. of Baluchistan
Scholarship from Political Agents of FATA
Killa Gift Fund
Scholarships from Ministry of Kashmir Affairs are also accessible for university.
Contact Us:
NTU Faisalabad.
Contact Telephone: +92-41-9230081-82
Contact Fax:+92-41-9230098
E-Mail: [email protected]
Address: National Textile University, Sheikhupura road
Thanks for visiting our site which is compatible of Universities Admissions and details. We provide the best information about National Textile University Faisalabad Admission 2022.
Official Site: NTU Faisalabad
Type: Public