Karachi Institute of Economics and Technology was founded in 1997 with the intention of offering the quality of education at reasonable cost. Its academics programs are developed to get ready the students to meet the difficulties of the nation and industry. PAF KIET  ADMISSION 2022 last date to Apply obtained the recognition by the Higher Education Commission (formerly known as UGC) vide letter no. 15-22/UGC-SEC/97/1291 dated 1 August 1998.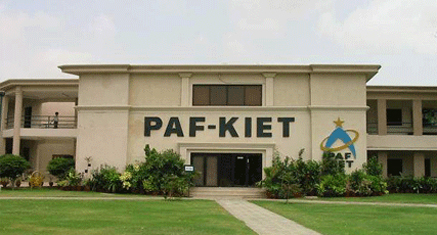 Important 2022 Admission Date For Management Sciences, Computer Science & Software, Media & Arts, ERP and BBA, MBA in Aviation Management, BS Accounting & Finance
Last Date of Form Submission July 28, 2022
Colleges:
College of Computing & Info Sciences
College of Management Sciences
College of Engineering
Media & Arts
Humanities & Sciences
Programs:
BBA- Honours
BBA ERP
BS TV & Film
BE(Avionics)
BBA Entrepreneurship
BS Computer Science
BCA (Computer Arts)
BE(TeleCom)
BBA Islamic Business & Finance
BS (Telecom & Network)
BFA (Fine Arts)
BE(Industrial Electronics )
BS Accounting & Finance
MCS
BE(Mechatronics)
MBA (Regular)
MS Telecom Engineering
MBA
MBA (Islamic Finance)
MBA (for 4 years non-business degree)
MS (Telecom & Networks)
MBA-Educational Leadership
MS (Software Engineering)
MPhil     PHD
MS-Management Science
Post Graduate Diploma in Islamic Finance
PAF KIET Admission 2022 Last date to Apply with Fee structure And Eligibility
Academic Requirements:
PAF KIET Eligibility Criteria for Bachelor Degree Programs:
Candidates must have a minimum of 50% marks in the Intermediate board certificate or equivalent A- Level courses or relevant diploma for the Bachelor degree programs. For BE Electronics (Bachelor of Engineering) program, the candidate must obtain at least 60% marks in Intermediate (Pre-Engineering only) or DAE with minimum 70% in the related domain as per PEC criteria. BE candidates between 50% to 60% in FSC and 60% to 70% in DAE must clear zero semesters with 60% and above marks at KIET as per PEC criteria. Applicants with the A-Level background for BE must have at least three A-Level courses of Math, Physics and Chemistry. Students of A-Level and other equivalent foreign degrees must offer the equivalence from IBCC within the length of time of their 1st semester.
Eligibility Criteria for Master Degree Programs:
Candidates for below 50%, may be regarded as if they score previously mentioned average in our aptitude test. For the MBA-Executive program, a minimum of 4-year working experience in the relevant field, prior to applying for admission, is required. Candidates for M. Phil level degrees must have 4-year bachelor or equivalent Master degree in the equivalent field. Candidates must pass (I) GRE or NTS entry examination, (II) Graduate admission interview.
Eligibility Criteria for MS / M. Phil Programs:
Candidates for MS / M. Phil Program must have 16 years of schooling or 4-year education (130 credit hours) after HSSC/ F. A. / F. Sc/ Grade 12 equivalent. The GAT-General executed by the National Testing Service with a minimum 50% cumulative score will be necessary at the occasion of admission into M. Phil/M. S. The GAT-General test is legitimate for a period of 2 years.
Eligibility Criteria for Ph.D. Programs:
Candidates for Ph.D. The program must have 17 years of schooling that matches to MS/MPhil or comparative degree from Higher Education Commission  recognized institutions. For engineering programs, a Bachelors degree in a related engineering field is necessary. The GAT-Subjective carried out by the National Testing Service with a minimum 60% cumulative score will be necessary at the time of admission into Ph.D. The GAT-Subjective test is legitimate for a time period of 2 years.
Scholarships:
KIET  has a very sophisticated academic scholarship system structured firmly on merit. The scholarship system is designed to motivate students, encourage hard work and exceptional academic performance in every semester. The Karachi Institute of Economics and Technology offers scholarships to 7% of the total durability of students on a semester-to-semester basis. Presently more than 100 students are availing academic scholarship provision. The scholarships range from 85% to 20% rebates in tuition fee. Students scoring 70% and above in board degree exams can apply for academics scholarship in the 1st semester at Karachi Institute of Economics and Technology. Fee discounts are also provided in the subsequent different types:
High academic achievers: up to 85% in tuition fee.
Siblings of full-time students of the institute who are paying regular fees: 25% in tuition fee.
Government employees and their children: 10% of tuition fee
Army & Navy employees and their children: 8% in tuition fee.
Public corporations and financial institutions' employees in the evening programs only: 6% in tuition fee.
Thanks for visiting our site which is compatible of Universities Admissions and details. We provide the best information about Karachi Institute of Economics and Technology  Admission 2022.
Official Website: Karachi Institute of Economics and Technology
Founded: 1997
Type: Private