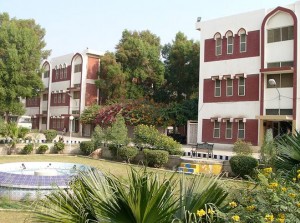 Primarily the Peoples University of Medical and Health Sciences  was in the short term housed in section of District Council High School comprising a couple of hostels and auditorium (Latif Hall) coupled with the main building of Muslim Boarding House.
Important Admission Date for DPT only for Girls on Self Finance
Admission Start from 07 Dec
Last Date of Form Submission 29 Dec
Get Admission Form on payment of Rs 1,01,00/- issue in the name of Vice Chancellor, PUMHSW, Shaheed Benzirabad
Important Admission Date for MBBS
Admission Start from 10-09-2022
Last Date of Form Submission 30-09-2022
Get Admit Card from 15th Oct to 18 Oct
Entry Test should be held on 19-10-2022 at PUMHS, LUMHS Jamshoro, CMC Larkana, GMMMC Sukkur
Get Admission Form on payment of Rs 600/- from following Bank Branches
PUMHS HBL Branhes, Nawabshah HBL
Jail Road Branch, Hyderabad
Sattelite Town Branch Mirpurkhas
Military Road Branch Sukkur
Bander Road Branch Larkana
HBL Branches of Naushahro Feroze
You pay 1,500/- in HBL when submit Documents and Fee of Entrance Test. You also pay Rs 250 for Bank Service Charges
Student from these areas having Domicile of list areas should only apply for People Medical College:
Hyderabad
Tando Mohammad Khan
Tando Allah Yar
Matiari
Badin
Mirpurkhas
Tharparkar
Shaheed Benazirabad
Sanghar
Sajawal
Thatta
Umerkot
Jamshoro
Larkana
Dadu
Shikarpur
Qambar/Shahdadkit
Kashmore
Jaccobabad
Naushahro Feroze
Sukkur
Khairpur
Gotki
Important Admission Date for Doctor of Pharmacy only for Girls
Admission Start from 31-01-2022
Last Date of Form Submission 14-02-2022
Admit Card will available from 21-02-2022 to 22-02-2022
Application Form and Prospectus can be obtained from Admission Office of the People University of Medical & Health Sciences fro Women, Shaheed Benairabad, Nawabshah on payment of Rs 2000/-
Departments:
Clinical Departments:
Department of Medicine
Department of Surgery
Department of Obstetrics & Gynecology
Department of ENT
Department of Ophthalmology
Department of Anesthesiology
Department of Orthopedics
Department of Pediatrics
Department of Cardiology
Department of Chest Diseases
Department of Psychiatry
Department of Dermatology
Department of Neurology
Department of Radiology (Ultrasonography / C.T. Scanning)
Department of Neuro Surger
Department of Urology & Nephrology
Admissions:
Eligibility for Admission:
The minimal informative certification of a applicant for a entrance to 1st year MBBS / BDS course to LUMHS under all entrance classes is Higher Secondary Certificate Examinations (HSC) Pre-Medical Group i. e. Physics, Chemistry, Biology) with at least "B" Grade exceeded through the year sometimes 2009 or 2010 only; or any comparative exam from any other Board or Institution recognized by IBCC as such with at least "B" Grade passed during the year either 2009 or 2010 only. Applicants receiving less than 60% Marks in HSC (Pre-Medical) or comparative Examinations are not entitled..
Eligibility for International Students:
Out of 3 science subjects, Biology and Chemistry are necessary subjects. The 3 rd science subject could be Physics or Mathematics. Equivalence Certificate of HSC (Pre-Medical) with minimal 60% marks, from IBCC Islamabad. Country secondary school certificate / Marks Certificate of Intermediate examination / A Level having exceeded throughout the year 2009 or 2010 SAT-II exam score with minimal 700 marks in each subject, i. e. Chemistry, Biology, and Physics or Mathematics. Valid TOEFL or IELTS with a score of 500 or 5. 5. Passport with valid visa and Police Enrollment Certificate.
Admissions disabled to Candidates:
Applicants for entrance against the seats appropriated for incompetent persons after acquiring unsuccessful to be determined against the region merit seats on the basis of their overall merit, after the Entry Test, will have to create a document from the Department of Social Welfare, Government of Sindh, Karachi to the effect:
That he/she is a incompetent applicant within the significance of disability which defined "disability" as that degree of physical disability which puts the applicant at downside as in comparison to a regular person for procuring education in medical institutions, but normally capable of performing his/her duties satisfactorily as a medical skilled.
That he/she is emotionally fit and literally able to carry on studies and accomplish specialized duties after being approved MBBS.
His/Her disability should not be of such a severe degree that makes a applicant unable to obtain medical instruction or work as a doctor. Assortment against the appropriated seats will be made from the list of the disabled applicants strictly on mixed merit basis after entry test.
Thanks for visiting our site which is compatible of Universities Admissions and details. We provide the best information about Peoples Medical College Admission 2022.
Official Site: Peoples Medical College
Founded: 1974
Type: Public