Quaid e Azam University admissions 2022 were offered twice in a year. Purely on merit bases so that the eligible students get the admission. And for its selection entry test will be held to check the students knowledge. Its result is shown in the merit list displayed by the university on their website and in the university. Online admission facility is also given for facilitating the applicants by giving them full guidance for the online admissions for undergraduate. Quid e Azam university registration 2022 is the best choice because of its fee structure offered by it. Such a quality higher education at such r reasonable cost is a best aspect of it. Quaid e Azam university will also give the opportunity of abroad studies. Best practical labs were present for practical work by the university. QAU D Pharm admission is providing all the undergraduate and postgraduate programs under one roof. This is offered after the entry test cleared by the applicant.
QAU Quaid e Azam University Admissions 2022 Last Date Eligibility, Entry Test
Qauid e Azam university admission 2022 were opened apply just now for it. QAU University offers admission twice a year. Which give benefit to the applicant because if due to some reason they do not get admission due to some reason. Admissions were offered by both methods online and hard copy method  both were helping the applicant to eligibility. Because this is for the easiness of the applicant this method is very easy and helpful for everyone.
Quaid e Azam University Admissions 2022 Programs Offered
Quaid e Azam university admissions 2022 offers registration undergraduate in every subject related to the Natural science, Applied sciences, Arts, LAW and all other fields of education. These programs are offered in a very easy and acceptable fee structure by displaying merit lists to the applicant. BS, BSC,  MSC, MS, M.Phil., PHD and D Pharm these programs were best thought here by the experienced and dedicated teachers.
QAU Undergraduate Admission 2022 And Postgraduate Programs Offered
Undergraduate programs were offered after 12 years of education and eligibility criteria. Which were offered in a very reasonable and afforded cost. These programs were best thought here by the qualified teachers. Like BS, MS, BSC, MSC M.Phil. and PHD and D Pharm
Programs of Natural Sciences
Chemistry
Economics
Statistics
Electronics
Computer
Information Technology
Programs of Biological Sciences
Environmental Sciences
Plant Sciences
Biochemistry
Animal Sciences
Microbiology
Programs Of Social Sciences
Archaeology
Anthropology
Pakistan Studies
Phycology
Defense and strategic Sciences
Pakistan Studies
Sociology
Public Administration
Bachelor of Business Studies
Quaid e Azam University Admission 2022 Eligibility Criteria
Quaid e Azam university admissions 2022 eligibility is very simple and easy understand able by every one and it must be checked before applying by the applicant. So that rejection is not done eligibility is most important thing. And it must be noticed and checked before applying for the admission. Because this has a great importance. In the process of admission and eligibility criteria is almost similar for all the universities. And after checking it one apply for the admission.
45% in previous education.
5 CGPA for post graduate admission.
Entry test must be given by the applicant.
No criminal record.
Provide correct information at the time of admission.
Applicant rejected by the university authority.
Vice chancellor of university has a right to cancel admissions at any time.
Failed students means compart in any subject.
Quaid e Azam University Admissions 2022 Ineligibility Criteria
All the students not filling the above criteria were in eligible to get QAU admissions 2022 Last date to apply. because these are the conditions which must be met to get admission in BSCS, BBA, MBA, BS, BSC, MS, MSC, M.Phil., PHD and D Pharm.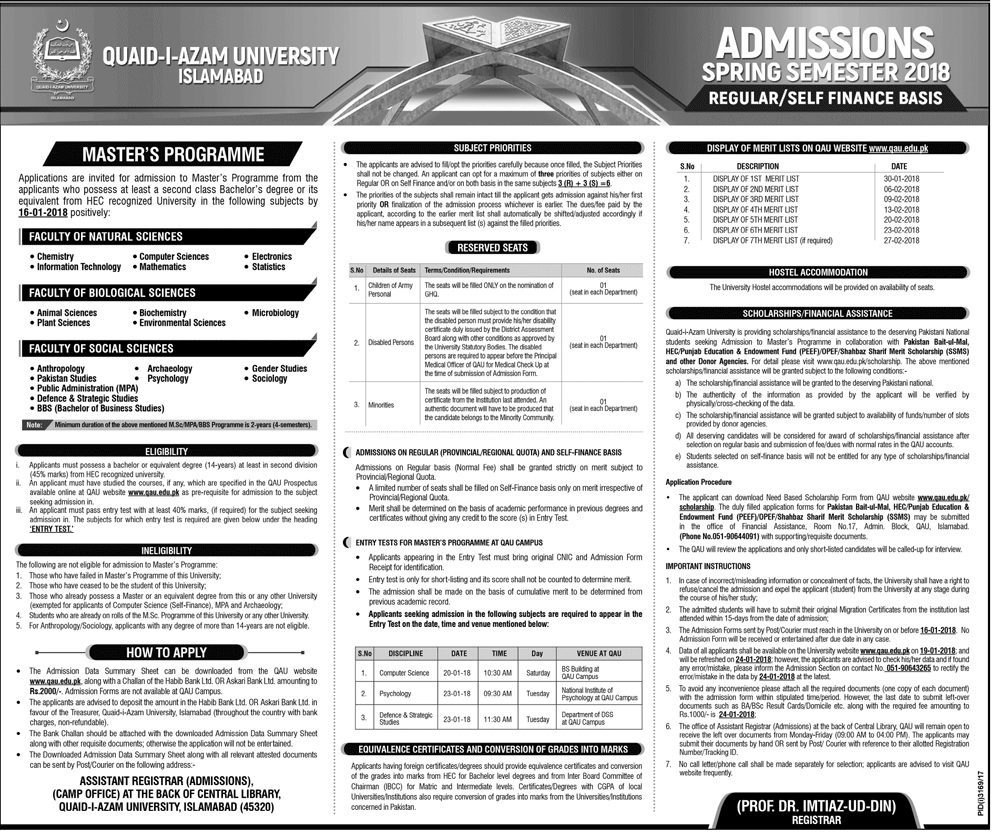 Quaid e Azam University Admissions 2022 How To Apply?
To get  Quaid e azam University admissions 2022 you have both the choices. For the convenience of applicant because now a days no one has time to visit the institute for this. And it is easy and fast means you can easily do it by the guidance provided by the institute. Download application form now without any delay and submit fee, eligibility. You can do it at any place at any time. Admission were offered on both open merit and self finance  bases. Their fee structured differed a lot because high ranked students get admission on merit bases whom have low fee structure and self finance have a high fee structure.
Online Method
Online method is very easy and fast method for getting admission. Because it is done at any time at any place which saves time . Due to which you do not need to visit the university at such a busy time. Apply now admissions were opened download application form now. Without any delay because if you wait for last date. You may loss this golden chance. Which comes twice a year just to facilitate the applicant. Because of any reason if ones do not get the admission and submit fee structure.
Register yourself by your email id.
And then fill the admission form with needed information.
Select the priority order carefully.
Scanned all the documents with it.
Paid challan form is attached.
Sent all the information to the official website.
Hard Copy Method
It is difficult and time taking procedure because for this you must go to the university. Which is a time taking procedure  and ones know the location to visit it. Admissions are opened now visit the university and get the prospectus. One have some knowledge to fill the admission form. Registrations are done twice a year to help the applicant so always try to grasp this golden chance by applying just now without any wait for the last date.
Visit the University yourself.
Get the prospectus.
Fill the attached admission form.
Fill priority order carefully in the form.
Attach attested documents with it.
Submit them to the respected document
QAU Entry Test 2022
QAU University conducted the entry test for the applicants. On the announced date at the respected center. But admit card is must to be taken on the entry test date. After eligibility Entry test result has a major percentage in the admission process. So applicant should give importance to it. QAU entry test is conducted for filtering non deserving candidates from the large list of applicant. This entry test is conducted in the university campus . Mainly conducted on Sunday for the facilitation of the students. And this is related to the course you want to get admission. So you should come with full preparation to get admission and elibility. Because they had a lot of importance in the aggregate calculator of  the admission process.
Entry Test Schedule Of Masters Spring Session
| | | | | | |
| --- | --- | --- | --- | --- | --- |
| SR NO | Discipline | Date | Time | Day | Venue at QAU |
| 1 | Computer Science | 20-01-2022 | 10:30 AM | Saturday | BS Building at QAU Campus |
| 2 | Psychology | 23-01-2022 | 09:30 AM | Tuesday | National Institute of Psychology at QAU Campus |
| 3 | Defence & Strategic Studies | 23-01-2022 | 11:30 AM | Tuesday | Department of DSS at QAU Campus |
QAU Merit List 2022
1st merit list is displayed on announced date on the official website and university notice board or respective department. This is of high ranked top students and then next were displayed 2nd, 3rd, 4th and so on until the finalized list is displayed. Final list is displayed after all the seats filled by it because more lists were displayed just to complete the lists and to get more students the chance of getting knowledge. And get higher education by such a great renewed university. This is the university of international standards which give quality education. By highly qualified and dedicated staff which make the student a golden asset for the country in every aspect and eligibility.
Display Of Merit Lists Schedule Of Masters Spring Session
| | |
| --- | --- |
|  MERIT LIST |  DATE |
|  1ST |  28-02-2022 |
|  2ND |  06-02-2022 |
|  3RD |  09-02-2022 |
|  4TH |  13-02-2022 |
|  5TH |  20-02-2022 |
|  6TH |  23-02-2022 |
|  7TH If Required |  27-02-2022 |
QAU Fee Structure 2022
Quaid e Azm University admissions 2022 provides quality higher education on a very reason able cost Which makes it a best choice due to its reasonable fee structure. Afforded by everyone Scholarships were also provided on need and merit based. So that it provide help to the needy and courage to the intelligent and high ranked students. Fee structure is the main cause to study or to stop study. Because many people not only get the higher education just because of high fee structure. This is more practical knowledge stage of education which takes more cost. So this is very expensive more material machines were needed. And highly equipped Labs were needed. Which allow to do more research and produce new things. For the welfare of man kind and to raise countries literacy level. And standard of education.