SMC was organized by the Government of Pakistan on the recommendations of the President of Islamic Republic of Pakistan in 2006. It is positioned at Faisalabad road, 2. 5 km away from Sargodha Faisalabad By-Pass. This is a constituent college of the University of Sargodha. The Government of the Punjab, Health Department has announced the DHQ Hospital, Sargodha as Allied Teaching Hospital for Sargodha Medical College admission section positioned in the middle of the city.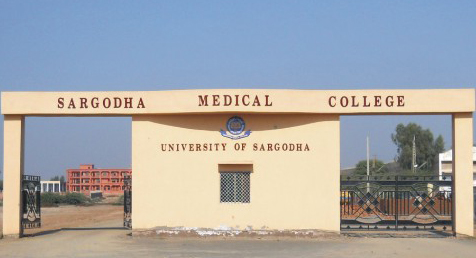 SMC provides the degree programs in MBBS, MCPS, FCPS and DPT. The College is accepted by Pakistan Medical & Dental Council (PM&DC) Islamabad, accredited by College of Physicians & Surgeons Pakistan (CPSP), Karachi for MCPS and FCPS degrees.
When will be SMC 2021 Entry Test? SMC Admission 2021-22
It is somehow not in particular perfection that when SMC will open its entry test examination. Although the good news is for the students of MBBS. Their degree admissions will be opened from September and will be announced on 30 October 2021.
Sargodha Medical College, a most known institute for medical education in City Sargodha and province Punjab. Sargodha is not a huge city and has not many medicinal Institutions but talking about SMC is like talking about a well standard educational Establishment. This perception of SMC is entirely correct that it is the best institution as compared to other institutes. Although getting into the details of this establishment is not much of a tricky thing.
First off the person who wants to get admission in this sector of education will want to know about the reviews regarding the faculty staff of this Medical School. Although each and every detail like this will be highlighted under the paragraph with proper guidance and solitude. The readers are highly suggested to keep their visualizing to the point and stay with the lines till the end of the post.
Sargodha Medical College Eligibility Criteria
The Eligibility Criteria of SMC is totally based on a policy of Govt. of Punjab and Pakistan Medical and Dental College Policy which is passing of Intermediate (FSC Pre Medical) with 60% marks and Entry test clearance is also compulsory in this matter.
While talking about the merit list and getting into merit to get admission there is another structure which only shows about how much percentage of different marks a candidate needs to get his or her name into the entry test schedule. The Schedule of this hierarchy is given as; Entry test 50%, Intermediate (FSc) 40% and Matriculation percentage not less than 10%. This is the one and only eligibility criteria which this institution has for allowing students to sit in their premises.
There are many other things which include the legal adaptation, which means that raises up the question that, is this institute registered with the top standard affiliation centers from the globe or even in Pakistan. The answer to this will also be given in the post through proper naming and heading protocols. Getting a highly valuable Affiliation center as a sponsor for education is the most required narration for colleges and other educational Establishments.
Sargodha Medical College Admission 2021 Last Date to Apply, Eligibility for MBBS
Important 2021 Admission Date for MBBS, BDS, DPT
(admission closed)
Last Date of Form Submission 18 July to 08 August
Entry Test held on 28 August
Registration of Hifz Quran 19 Sep to 23 Sep
Hafiz Quran Test 26 Sep to 30 Sep
Last Date of Admission Form 03 Octo to 15 Octo
Special Candidates List from 17 Octo to 21 Octo
First Merit List Octo 28
The beginning of Classes in medical colleges 14 Nov
The beginning of Classes in Dental Colleges 14 Dec
Sargodha Medical College Merit List 2021 for MBBS, DPT and Pharm-D:
Click Here to Get Merit list of MBBS
Academics Programs:
DPT
MBBS
MCPS and FCPS
MPhil and PhD
MSc in Medical Nutrition & Dietetics
Basic  Departments:
Biochemistry
Anatomy
Community Medicine
Forensic Medicine
Medical Education
Medical Nutrition and Dietetics
Pathology
Pharmacology
Physiology
Physical Therapy
Clinical Departments:
Psychiatry and Behavioral Sciences
Anaesthesia
Gynae and Obstetrics
Medicine and Allied including Cardiology
Ophthalmology (Eye)
Orthopaedics
Otorhinolarngology (ENT)
Pediatrics
Psychiatry
Radiology
Radiotherapy and Oncology
Surgery and Allied including Urology
Department of Medicine and Allied including Cardiology:
Eice Muhammad (FCPS)     Professor & Chairman
 Habib Subhani
Masood Ahmad
Amir Abbas Naqvi
Nadeem Ahmed
Saifullah Goraya
Abdul Saboor (
 Arshad Jamil
Department of Ophthalmology (Eye):
Sohail Mushtaq Book
 Hashim Imran
Arif Khokhar
Sajid Muneer
Department of Orthopaedics:
Syed Abrar H. SheraziMBBS, FRCS (Ire)
G.R. Bajwa MBBS, FCPS
 Naseer Ahmad (MBBS)     Lecturer/Registrar/RMO
Imran Ghani (MBBS, FCPS)     Senior Registrar
Department of Otorhinolaryngology (ENT):
Javed Iqbal
Rizwan Ullah Chattha
Haseeb Umer ,Lecturer/Registrar/RMO
Department of Pediatrics:
Nisar Ahmad Qureshi (on leave)
Rabia Rehman
Muhammad Arshad
Faisal Nadeem, Senior Registrar
Department of Psychiatry:
Yasir Mumtaz, Lecturer/Registrar/RMO
Department of Radiology:
Asma Abdul Razzaq, Assistant Professor & Incharge
Department of Radiotherapy and Oncology:
Haroon-ur-Rasheed
Department of Surgery and Allied including Urology
Check Also before Apply
Top 10 Medical College/Universities in Pakistan
Which University/College is best for MBBS In Pakistan?
Difference Between MBBS and BDS for Medical Students Of FSc Pre Medical
DPT In Sargodha Medical College
DPT Stands for Doctor of Physical Therapy. This degree deals with the physical condition of a person. The doctor treats the patient's physical botherations with various solutions and methods. They are most commonly called for help by people who are aged and do not have strong tendons to work.
In Sargodha, DPT is not most organized and not in common agenda or commonly flourished. Although the demand for this degree is very much in fashion. SMC now proposes this degree for the people who want to become a physiotherapist. It offers this program for both self and regular finance systems for the students. Now whoever wants to go for his or her future profession as a physiotherapist can do this degree from SMC. As you previously know that this College is very much obliged and provide very good knowledge and education, it would be a wise choice to get admitted while living in Sargodha.
You can apply for DPT in SMC in the upcoming admissions as a clean slate and move on towards fulfilling the credentials to a healthy profession and life. DPT is a Wise decision for the ones who love to put some instant smile on people's faces.
DHND In Sargodha Medical College
DHND Stands for Doctor of Human Nutrition and Dietetics. This degree is also available in SMC and is working its way to the top in making a dramatic applause in the coming future as a healthy profession. People nowadays prefer DHND as well. In the previous times, not most of the people were aware of this marvelous Field, now DHND is in their options list and it is given priority as well. Although this is also offered by the college and is a good opportunity for medical students.
Sargodha Medical College Fee Structure:
Fee Structure of MBBS:
Regular Seats:-
1st Year=Rs 35220/-
2nd Year=Rs 32170/-
3rd Year=Rs 32870/-
4th Year=Rs 32870/-
5th Year=Rs 32870/-
II- Self Support Foreign Seats
Regular Dues + $7000/-
Additional each year
( for Foreigner/Ex-Pat Pakistani & Foreign Overseas seats both).
Fee Structure of DPT:
– Regular:-
1st Year=Rs 49420/-
2nd Year=Rs 44370/-
3rd Year=Rs 45070/-
4th Year=Rs 44470/-
5th Year=Rs 44470/-
Self Support local Seats
Regular Dues + Rs 50,000/- additional each year
III- Self Support Foreign Seats
Regular Dues + $3000/-additional each year
(for Foreigner/Ex-Pat Pakistani & Foreign Overseas seats both).
Fee Structure of Pharm-D:
Regular base Fee Structure Rs 26000/-
Self-base Fee Structure Rs 31000/-
Sargodha Medical College Fee Structure Self Finance
Most of the students do not get admitted to the regular fields and want to go all the way and want to get admitted in Self Finance classes section. Those students can find this information from the administration office of SMC. We will provide the name and address details of Sargodha Medical College down below. Users can either call on the phone number/contact number or go to the provided address in order to get acknowledged with all the details.
MBBS Seats on Self Finance
Criteria is yet not entirely available on any online portal or platform. All we know is that through this College you do this incredibly costly degree worth lacs with just three lacs. Although Self Finance is a bit more expensive than the regular classes. This manifesto is entirely correct on the basis of Fee Schedule of the College.
Furthermore, if there is any concussion regarding any sort of information and you cannot find the information which you are looking for, please be very obvious in the comments section and our team will encourage your thoughts and questions and answer your problems in no time.
NUMS Entry Test Online Registration
Army Medical College Rawalpindi
King Edward Medical University Lahore
Sargodha Medical College Affiliations
As portrayed above, this affiliation thing is most crucial for an institute. If the building does not have a good affiliation center, it will not have much worth in the market and students will also feel not comfortable getting admitted. Students will look for other solutions and opportunities to get a good education and a powerful degree. These decrees are so intriguing that you have to be very punctual about it.
Moving on towards the affiliation centers of this very well and organized institute. SMC is affiliated with these Centers:
College of Physicians and Surgeons Pakistan
Pakistan Medical and Dental Council
University of Sargodha
These are the four centers which are also known throughout the premises of the country. PMDC has its very own popularity. Not only in the country but also most of the other states and countries applaud and encourage Pakistan Medical and Dental Council. For many other reasons, PMDC Has made its reach high. PMDC now provides the top Doctors from Pakistan who are currently living the dream and helping people from different regions in health Department or sequence.
Get latest updates of Admission Of SMC
Thanks for visiting our site which is compatible of Universities Admissions and details. We provide the best information about Sargodha Medical College Admissions 2021.
Official Website:  Sargodha Medical College

Founded: 1946

Type: Govt