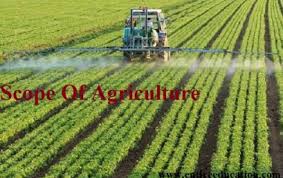 Scope Of Agriculture Courses, Jobs And BSc Universities
Our country has been recognized as an agricultural country from the day of independence (14 August 1947). This is because of its Cultural and healthy land. Groceries which are produced in the soil of Pakistan are very much qualified and best in quality. Country has been producing vital amount of wheat, Rice, Cotton and other Crops for feeding of public and to export as well. Due to this exporting, it grows its managerial esteem and increases its stocks on a large scale and also enhances the position of the Currency. Because this vagueness and vast spread of agricultural criteria, Pakistan offers a large amount of agricultural scope. Scope of agriculture in Pakistan is very much alike the birds in a jungle. This article will convey the "how's and what's" of this field by telling a useful detail about the scope.
Scope of Agriculture BS Students, Career, Job Opportunities and Subjects of Agriculture
Lots of opportunities are available of the people who want to take BS Agriculture forward as career building program. People Choose Agricultural Engineering as an educational profession because of the day to day increasing of technological Impressions in Agricultural courses. There are many other subjects and degree programs which this particular field offers along with its Merits and positive awareness.
Scope of Agriculture Students in Pakistan
Due to spreading awareness of crop and vegetation along with different other mixtures, this field is showing its vastness. There are now many other subjects in the name of this particular program and element of our country. People who want to take this a career can help themselves by looking at the list of these different programs. There are 33 programs which are offered for the undergraduates. The list of the agricultural Subjects in Pakistan is given Down Below:
| | |
| --- | --- |
| Resource Economics | Forest Management |
| Entomology | Biodiversity and Plant Conversation |
| Sciences | Agribusiness Management |
| Agronomy | Crop Physiology |
| Crop Protection | Extension |
| Entomology | Education |
| Food Engineering | Business |
| Horticulture | Farm Management |
| Forestry | Animal Sciences |
| Food Technology | Dairy Technology |
BS Agriculture Jobs in Pakistan
Bachelors in this degree program has a lot career building opportunities in terms of Jobs give a way. Agricultural Jobs are provided by both Governmental and Private sectors. The main focus of this field is on the production of crops and GDP products. Jobs which are given in this sector are very much healthy and satisfying for the person. The List of jobs of this degree is given below:
Fertilizer Supplier
Natural Resource Manager
Natural Resource Advisor
Laboratory Advisor
Agriculture Scientist
Agricultural Consultant
Ecologist
Senior Fertilizer Supplier
Senior agriculture Scientist
Biochemist
What is the Future And Scope of BSc Agriculture?
These are top jobs which are provided both on Governmental and Private Scale Institutions. Al though some Private institutions in Pakistan pay a less bit Salary for their workers. Governmental Sectors provides their Salary on their Job Scales.
Universities for BSc Agriculture Engineering
There are many top Agriculture universities which are offering this program right now. The degree is vastly known for its huge Scope in Pakistan. The most Healthy Jobs are provided for the engineers in this Subject. Talking about the different universities in Pakistan. A list of universities is Given below:
The Islamia University, Bahawalpur
Bacha Khan University
Gomal University
Shaheed Benazir Bhutto University
Hazara University
Bahauddin Zkaria University
Abdul Wali Khan University