Introduction, Shah Abdul Latif University Admission 2022 Last Date :
In 1974-75, the University of Sindh with its sole campus in Jamshoro could not keep tempo with the developing require of the Sindh Province for higher education. Every year Shah Abdul Latif University Admission announce in the month of June/July. Yet another campus was consequently set up at Khairpur Mirs, referred to as after the national poet of Sindh, Shah Abdul Latif Bhatai.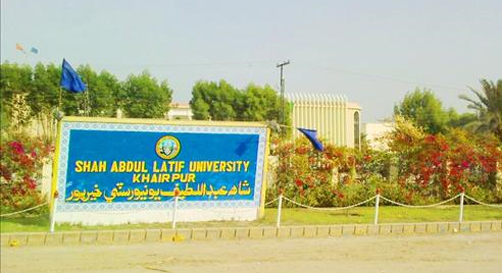 Important 2022 Admission Date for Faculty of Natural Sciences, Faculty of Physical Sciences, Faculty of Social Sciences, Faculty of Arts and Languages, Faculty of Management Sciences, Faculty of Education, BBA, BS English Language and Literature, BSCS, BSIT, BS.Com, M.COm, ADE
Admission Start from Sep 1st
Last Date of Form Submission Octo 09
Entry Test for BS Nov 08 and MS Nov 09
1st Merit List Nov 16 to Dec 3rd
2nd Merit List Dec 07 to Dec 15
3rd Merit List Dec 17 to Dec 22
Self-Finance Merit List Dec 24 to Jan 1st
Beginning of Classes Jan 04
Get Admission Form on payment of Rs 1200/-.
Facilities:
The Faculty of Faculty of Natural Sciences:
BS Archaeology
BS Biochemistry
BS Botany
BS Chemistry
BS (Computer Science) in Computer Science
BS (Information Technology) in Computer Science
BS Geography
BS Mathematics
BS Microbiology
Doctor of Philosophy in Microbiology
BS Physics
BS Statistics
BS Zoology
The Faculty of Faculty of Social Science & Arts:
BS in Economics
BS Arts in English
BS in International Relations
BS Media Studies
BS in Political Science
Bachelor of Public Admin in Public Administration
BS Urdu
The Faculty of Faculty of Commerce & Business Administration:
Bachelor of Business Admin in Business Administration
Bachelor of Commerce in Commerce
The Faculty of Faculty of Natural Sciences:
Masters of Science in Archaeology
Masters of Science in Botany
Masters of Science in Mathematics
Masters of Science in Microbiology
Masters of Science in Physics
The Faculty of Faculty of Social Science & Arts:
Masters of Arts in Economics
Masters of Arts in English
Masters of Arts in International Relations
Masters of Arts in Pakistan Studies
Masters of Arts in Political Science
Masters of Public Admin in Public Administration
Masters of Arts in Sindhi
Masters of Arts in Sociology
Masters of Arts in Urdu
The Faculty of Faculty of Commerce & Business Administration:
Masters of Business Admin in Business Administration
Masters of Commerce in Commerce
Masters of Commerce (ONE YEAR) in Commerce
Masters of Commerce (THREE SEMESTER) in Commerce
The Faculty of Faculty of Natural Sciences:
Doctor of Philosophy in Microbiology
IT centre:
The IT Centre has been founded in October 2008 at university  for offering IT services/amenities(i. e. E-mail, Internet connectivity, Browsing, Video Conferencing etc) to the faculty members, Admin staff and researcher of university and to assist the advancement of commencement and growth stage of IT facilities to each academic departments and also sections of the institute.
Get latest updates of Shah Abdul Latif University Admission
Thanks for visiting our site which is compatible of Universities Admissions and details. We provide the best information about Shah Abdul Latif University Admission 2022.
Official Website: Shah Abdul Latif University
Founded: 1986
Type: Public