Sir Syed University of Engineering and Technology is an Engineering founded and Established in 1993. The University is also known commonly as SSUET. This is a Private University located in Karachi, Sindh. The Founder of SSUET is Z A Nizami. The Chancellor of this University is Jawaid Anwar. The institute has more than 6000 students. The Affiliations of this Institute is with HEC and PEC. This establishment has been very well known in the fields of research for Energy, Science and Also Engineering. Students have been trying to put questions on the internet to know more about it. Admission are open in SSUET for BSCS, BSSE, BSEE, Bioinformatics, Engineering programs with eligibility and fee structure. This article will help the readers to acknowledge themselves about the history and current information of this particular Establishment. The Users are directed to keep the article till the end of the page to get themselves informed and ready to get admitted as well.
SSUET – Sir Syed University of Engineering and Technology Admission 2022 Last date
SSUET is based on the patrimony of Sir Sayyed Ahmed Khan and his struggle in education which is known as the Aligarh Movement. SSUET is Ranked 12th in this Genre. Along with the educational motives, this institute is also making extracurricular activities for its students like Sports, Music and Student Societies.
SSUET Admission 2022 Undergraduate (BS), Masters (MS) and Doctoral
To get admission in this institution, the candidate must have to get these documents. The documents include a photocopy of the aptitude test result card. Photocopy of SSC and HSSC Certificate and two recent passport size Photographs of the candidate. When these are properly submitted, than the candidate will have to appear in front the admission committee to get information and appointed on the current available seats. When the seats are successfully allocated then the candidate has to deposit fee immediately.
SSUET Undergraduate, Masters Doctoral Admission
This Institute is widely known for its best teaching in engineer Programs for Undergraduates, Postgraduates and Doctoral Degrees. Al though this institute also deals with the Environmental sciences Institute and Human Settlement. The Programs which are provided by this institution are listed down below:
undergraduate Programs & Entry Test
BS Architecture
Bioinformatics
Telecommunication Engineering
Biomedical
Software
Civil
Information Technology
Computer Science
Electrical
Computer Engineering
Electronic
Masters Programs & Entry Test
Software Engineering
Civil
Electronic
Biomedical
Computer Networks
Mathematical Sciences
Doctoral Programs
Computer and Electronic Engineering
SSUET – Sir Syed University Eligibility Criteria and Entry Test:
SSUET eligibility is Maximum 60 percent marks in HSSC or equivalent for Electrical, Computer, Civil, Telecommunication and Electronic Engineering.
Minimum 50% marks in HSSC or equivalent for Computer Science Software Engineering, Bioinformatics, Information Technology and Architecture
These are the programs which are studied in this institution right now at their best. The University more often arranges lots of Events for creating a refreshing environment in the Campus.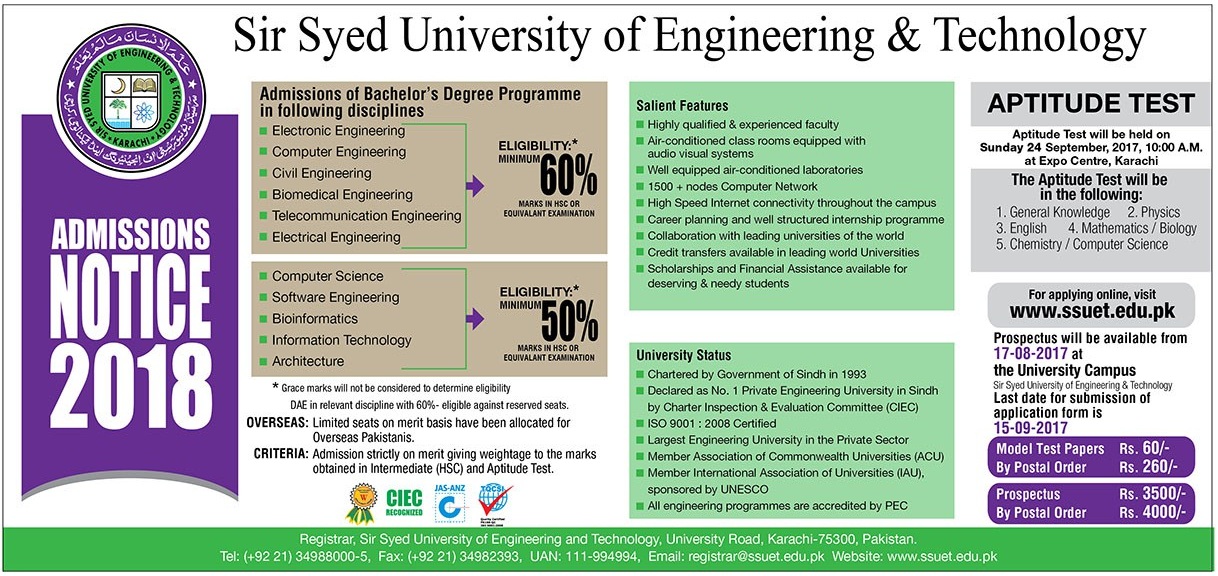 SSUET – Sir Syed University Fee Structure 2022
Regular Genre:
Disciplines instead of architecture have a deposit fee of Rs 1, 72,300/-. While talking about the architecture program, the students have to deposit Rs 2,21,300/-
Self-Finance Genre:
Self- Finance Students have to pay Rs 4, 50,000/- for every any Degree or discipline
Overseas Genre:
For Any Discipline, US $ 8,650/-
This is the Complete Information about the merit list, eligibility, admission, Fee Structure and undergraduate, Masters, and PhD programs Details. All the queries and questions which are left behind can be solved by reading the forums on the official Website of this institution.