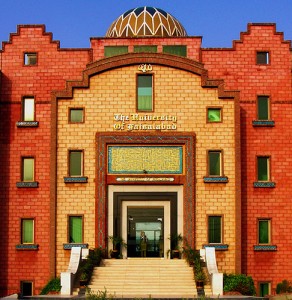 The University of Faisalabad was established in the year 2002 under the auspices of Madina Foundation, a "not for profit" philanthropic organization in the light of the vision "Industry, Service, Education" of its founder Chairman Haji Muhammad Saleem (Late).
Important 2015 Admission Date for DPT, OD, DND, Pharm-D, BS in Engineering in Textile, Electrical, Civil Engineering, Chemical Engineering, MS Electrical, Chemical, M.Phil, Phd, BSCS, BSIS, BSMC, BBA, BSN, MA Islamic Studies, MBA
Admission Start from Sep 05
Entry Test Sep 05 at Amin Campus 10:00 AM for Engineering
Faculties:
Faculty of Health Sciences:
Doctor of Pharmacy (PHARM D)
Doctor of Physical Therapy
BS Food Science and Technology
Faculty of Engineering and Technology:
Bachelor of  Electrical Engineering
Bachelor of Engineering in Textile
 Bachelor of Chemical Engineering
MS  Textile Management
Faculty of Management Studies:
Master of Business Administration
Master of Business Administration Executive
MS Management
Faculty of Art  and Social Sciences:
MA  Islamic Sciences
MA Arabic
M Phill Islamic Studies
  M Phill Arabic
Ph D Islamic Studies
Ph D Arabic
Faculty of Electrical Engineering
Faculty of Textile Engineering
Faculty of Chemical Engineering
Admissions:
The applicants are advised to go through the contents of the prospectus and familiarize themselves with the rules governing entrance test and interview for admission at The TUF .They should also check the eligibility criteria for a particular program.
The

University of Faisalabad

 reserves the right to refuse admission to any individual without assigning any reason. A candidate shall not be entitled to claim admission as a matter of right even if he/she is otherwise eligible.
If some omission in the processing of application is noticed at a late stage or the certificate / document of any candidate is found to be forged by the University, the University has the right to cancel admission of such student at any stage. All the dues paid shall be forfeited. Legal action shall be taken against such student(s). Applications found to be incomplete or not submitted on the prescribed form and those received after the due date shall not be entertained.
Confirmation of Entrance:
Selected candidates are required to confirm their acceptance by paying the non-refundable admission and tuition fees within the specified dates. Admission process will be completed after the payment of all dues and submission of enrollment forms. If a candidate fails to submit the enrollment form, his/her admission will stand cancelled and the seat will be offered to the next candidate on merit list.
Entry Test Result/ Merit List 2022:
Merit List should be display on specific date.
Thanks for visiting our site which is compatible of  Universities Admissions and details. We provide the best information about TFU Admission 2022.
Official Website: University of Faisalabad
Founded: 2002
Type: Private