Introduction, University of Wah Admission 2021 Last Date:
Institute was founded in 2005. 3 and half years later, in July 2009. the Punjab provincial Assembly exceeded the university Act, 2009. University of Wah admission section is giving 4-years Bachelor and 2-years Master Programmes in Basic Sciences, Social Sciences, Management Sciences and Engineering Sciences. University has 2 constituent colleges, Mashal and Wah Engineering College. The Wah Engineering College is giving B. Sc Engineering Program in the fields of Electronics, Mechanical and Mechatronics, whereas, Mashal College is giving BS (4-years) Programs in English and Education (only for girls).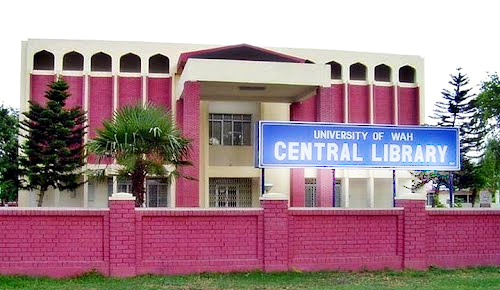 Important 2021 Admission Date for Faculty of Basic Sciences, Faculty of Social Sciences & Humanities, Faculty of Computer Sciences, Faculty of Management Sciences, Faculty of Engineering
Admission Start from August 31st
Last Date of Form Submission Sep 16
University of Wah Launching new programs 2021
BSc Electrical Engineering Technology
BSc Mechanical Engineering Technology
Note:
Last Date of Form Submission 06-10-2021 for New Programs
Programs:
Sciences:
Biological Science
Computer Science
Chemistry, Physics
Statistics, Business
Administration and Mathematics
Humanities:
English Literature
Education,
Islamic Studies
Pakistan Studies
Social Sciences
Economics
Sociology and Psychology
University of Wah Admission:
Eligibility Criteria:
A person possessing a FA/F. Sc Certificate from Pakistan or comparative certificate from any other country with at minimum 2nd division, having 45% marks or its comparative shall be suitable for enrollment to BS (Hons) and BBA (Hons) degree program.
A person holding a BA/B. Sc degree from Pakistan or comparative certificate the from any other country with at least 2nd division, having 45% marks or its comparative shall be entitled for enrollment to B. Ed and Master degree program. However, for EMBA 4 years job expertise is also necessary and for M. Ed degree program B. Ed or MA in Education is the requirement.
A person keeping F. Sc (Pre-Engineering) certificate with at least 60% marks or DAE with 1st division in relevant technology from any institute known by the Government of Pakistan shall be entitled for enrollment to BSc Engineering degree program. Entry test for all applicants is compulsory. UET entry test result is also appropriate and such applicants shall be exempted from entry test of the University. Merit to be determined on the basis of 70% weightage to F. Sc marks and 30% weightage to entry test.
Each applicant shall make an application for enrollment on the prescribed by doctors form in resolution to an advertisement.
Admission shall be made on the basis of academic merit.
All the enrollment shall be authorized by the respected Dean of faculty on the suggestions of the enrollment committee of the department.
 Institute may prepare other conditions for figuring out merit for application from time to time.
Admission to one department shall not give the student any appropriate to exchange to an additional department.
The Vice Chancellor may terminate/reject enrollment of/to any student without assigning any reason.
International students, searching for admission, will be essential to submit their application through the Ministry of Education, Government of Pakistan.
Thanks for visiting our site which is compatible of Universities Admissions and details. We provide the best information about institute Admission 2021.
Official Website: University of Wah
Founded: 2005

Type: Private