Uttara University Bangladesh Admission 2022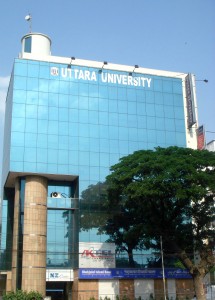 Uttara University (Bengali: উত্তরা বিশ্ববিদ্যালয়) or (UU) is a non-public university in Uttara, in Dhaka, Bangladesh. Uttara University  has 3 campuses in a 1-kilometer radius in Uttara, city campus in Dhanmondi and one more campus in Mirpur-1. Dr. M. Azizur Rahman, initiator of Uttara University, a ex – Economic Advisor of the US Embassy (Dhaka), a well-known academician of the country and an prestigious Economist of foreign repute, alumni of  Vanderbilt University, a Nobel Laureate School in USA, includes genius in national education platform that advantages the students.
[box type="tick" style="rounded" border="full"]Admission For 2022[/box]  
BBA Midterm will start from 13-11-2022 and MBA Midterm will commence from 02-11-2022.
Schools and Departments
University is arranged into 5 schools and 11 departments. The university gives 25 programs in undergraduate and postgraduate levels. Its academics structure is as follows:
School of Business
Department of Business Administration
School of Science and Engineering
Department of Computer Science & Engineering
B.Sc in Computer Science & Engineering
B.Sc (Hons) in Computer Science
Department of Physics
M.Sc (Preli) in Physics
M.Sc (Final) in Physics
Department of Mathematics
M.Sc (Preli) in Mathematics
M.Sc (Final) in Mathematics
B.Sc (Hons) in Mathematics
Department of Electrical & Electronic Engineering
B.Sc (Hons) in Electrical Engineering
B.Sc in Electrical & Electronic Engineering
School of Arts and Social Science
Department of English
B.A (Hons) in English
M.A (Preli) in English
M.A (Final) in English
Department of Islamic Studies
B.A (Hons) in Islamic Studies
M.A (Preli) in Islamic Studies
M.A (Final) in Islamic Studies
Department of Law
LL.B (Hons)
LL.B (2 Years)
LL.B (Final)
LL.M (1 Years)
LL.M (2 Years)
Department of Bengali
B.A (Hons) in Bengali
B.A (Preli) in Bengali
M.A (Final) in Bengali
School of Education and Physical Education
Department of Education
Department of Physical Education
Facilities
Financial and academic facilities
University gives scholarships for meritorious students and exclusive economic assistance to weak students.
Uttara University  has 2 libraries, computer laboratories, digital laboratory, English language laboratory, physics laboratory and some other conveniences.
Thanks for visiting our site which is compatible of Universities Admissions and details. We provide the best information about Uttara University Admission 2022.
Official Website:  www.uttarauniversity.edu.bd
Founded: 2003
Type: Private