WAH Engineering College Admission section a constituent college of the University of Wah, was founded in 2004 and has been providing four years degree course in the areas of Electrical, Mechanical, Mechatronics, Civil along with Chemical Engineering. Moreover, the College has also commenced a postgraduate course providing MSc degrees in Electrical and also Mechanical Engineering and also PhD courses in the areas of Electrical and Mechanical Engineering.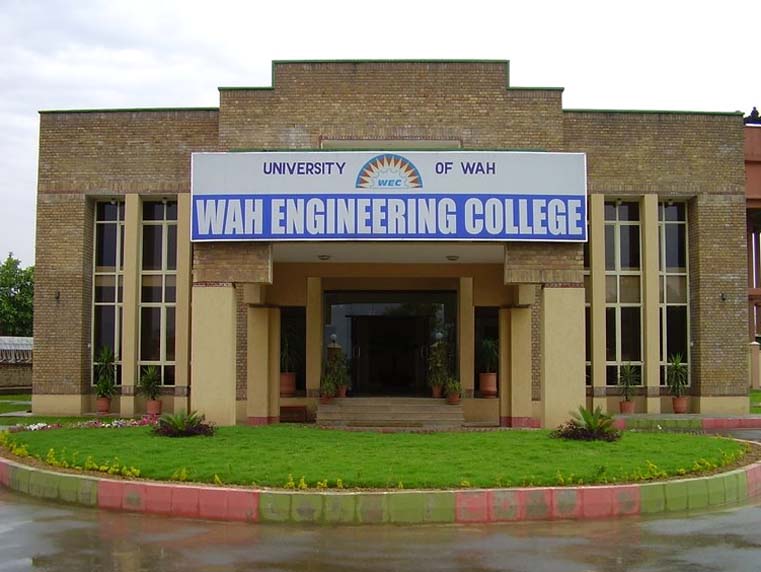 Wah Engineering College Admission 2022 Last date, Merit List
Important 2022 Admission Date for BSc Electrical, Mechanical, Mechatronics, Chemical and Civil, MS/PhD Electrical/Mechanical
Admission Start from July 23
Last Date of Form Submission Sep 3
Entry Test at WEC For BSc Engineering Applicants only form
Sep 5 to Sep 09
Display of 1st Merit Sep 11
Last Date of Fee Submission Sep 18
Display of 2nd Merit Sep 21
Last Date of Fee Submission Sep 28
Display of Final Merit Sep 29
Last Date of Fee Submission Octo 06
Registration of Courses Octo 07 to Octo 09
Orientation of New Students Octo 09
Beginning of Classes Octo 12
Last Date of Fee Submission Sep 18
Courses:
Wah Engineering College Undergraduate Admission:
BSc Electrical
BSc Mechanical
BSc Mechatronics
BSc Chemical
BSc Civil
Graduate Courses:
MS Electrical
MS Mechanical
PhD Electrical
PhD Mechanical
Admission Procedure:
Admission to 1 department shall not offer the student any appropriate to exchange to a further department.
The Vice Chancellor reserves the appropriate to terminate/reject entrance of/to any student not having assigning any motive.
All admissions will be authorized by the Dean of department on the suggestions of admission committee of the department.
The university may formulate other conditions for identifying merit for admission from time to time.
WAH Engineering College admission Eligibility Criteria for Undergraduate Courses:
FSc (Pre-Engineering) or comparative with at minimum 60% marks or DAE with 1st division in related technology from any institute known by the Govt.
Merit will be identified on the base of 70% FSc marks & 30% written test marks.
Every student searching for entrance should pass the written test. On the other hand, UET written test final result is tolerable and these applicants are exempted from the University of Wah Undergraduate Entry Test.
Eligibility Criteria for PhD Engineering:
Master's degree in the related area comparative to 18 years of education with a CGPA of at minimum 3. 0/4. 0, or comparative.
GRE (Foreign) Subject Test with higher 60 %. Provisional admission may be offered till moving GRE.
Degree Requirements:
48 CH (18 CH courses + 30 CH Thesis Research), CGPA > 3. 0, Passing DQE, Thesis Proposal Defense, print a minimum of one exploration paper in HEC accepted journal, thesis analysis by 2 international specialists. Thesis Finalized Security ahead of GEC in an start seminar.
Entry Test Result/ Merit List 2022:
Merit list will be updated soon.
Contact Us:
Address:
University of Wah,
Quaid Avenue, The Mall, Wah Cantt, Punjab, 47040, Pakistan
Email ID: [email protected] Phone Numbers:
+92 (51) 9055 22253-4
+92 (51) 9314391
Thanks for visiting our site which is compatible of Universities Admissions and details. We provide the best information about WahEngineering College Admission.
Official Site: Wah Engineering College
Type: Public