Bachelor of Architecture is an academic study programs which is offered after the higher secondary school examinations. It is normally a five years of academic study program that comprises of 10 semesters.
In Pakistan there are many universities that are offering arch degrees at undergraduate and post graduate level of studies. These degrees are offered after the accreditation of higher education commission of Pakistan which is the main regulating body of all higher education programs. The list of Pakistan's best top 10 universities that are offering architecture degrees is given below.
Q: Which University Is Best For Architecture In Pakistan?
| Rank | University name | Founded | Type |
| --- | --- | --- | --- |
| 1 | UET Lahore | 1921 | Public |
| 2 | NUST | 1981 | Public |
| 3 | University of Gujrat | 2003 | Public |
| 4 | CIIT Islamabad | 1998 | Public |
| 5 | Mehran UET Jamshoro | 1963 | Public |
| 6 | Indus Valley School | 1989 | Private |
| 7 | Ned UET Karachi | 1921 | Public |
| 8 | Nazir Hussain University | — | — |
| 9 | Sir Syed UET Karachi | 1993 | Private |
| 10 | Beaconhouse National University Lahore | 2003 | Private |
Ans: UET Lahore Is Best For Architecture In Pakistan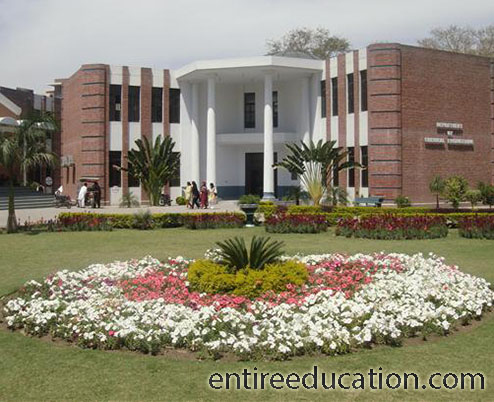 About University of Engineering and Technology Lahore
University of Engineering and Technology Lahore also known as UET Lahore is considered as number one university for pursuing the Architecture degree. It is a public sector research institution of Pakistan established in the year of 1921. Institution is also known by his degree in the field of Engineering and Technology. The institute is the oldest technology and Engineering institution of Pakistan. Institution has many campuses including Faisalabad, Gujranwala and Narowal.
Faculties and Departments:
The main campus of UET in Lahore is running 7 main faculties which are having 33 departments. All departments are offering degrees and courses in various academic disciplines of studies. The faculties in the campus are
Arch & Planning
Electrical Eng
Mechanical Eng
Civil Eng
Chemical, Metallurgical & Polymer Engineering
Earth Sciences & Engineering
Natural Sciences, Humanities & Islamic Studies
Faculty of Arch & Planning:
The faculty of Architecture and planning is running three departments which are
City And Regional Planning
Architecture
Product and Industrial Design
All three departments are offering Architecture courses at UG and PG levels.
Degrees Offered:
Degrees offered by the faculty of Architecture are
Undergraduate Degree
Post Graduate Degree
PhD in
Bachelor of Arch degree is offered with 7 specialized fields which are
Housing and Urban Design
Landscape Architecture
Interior Design
Building Conservation
Urban Revitalization
Building Construction Management
Architectural Studies
Admission Procedure
For admission at UET students are required to submit online form for admission. The interface for submission of form is available at the official website of UET.
Eligibility Criteria:
Only those students are eligible for apply in architecture programs who have terminal degree with minimum of 60% marks. International students are also eligible for admission. They are required to submit the equivalent certificate granted by the authority of IBCC UET Lahore Admissions.
Also See: