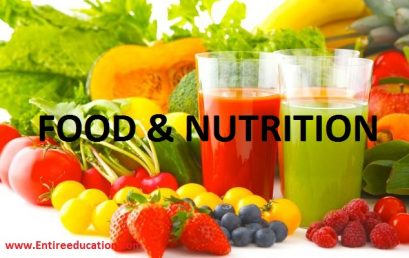 Scope of BS Food And Nutrition For Students
Food and Nutrition's are the basic and most important requirements of a Human being and all the living creature in the entire world. There is no animal, insect, reptile or any kind of creature that can survive without nutrition in his metabolical System. BS Food and Nutrition is a very excellent field in terms of good Career in the future. The medicines which are created for the ailment and illness are also extracted from these elements of life. This article will help the readers to acknowledge themselves about the information of Dietetics and Dietary.
Scope of BS Food and Nutrition for Graduate Students Male and Female in Pakistan
BS Food and Nutrition in Pakistan
Currently 11 universities, colleges and other institutes are offering this program in Pakistan. The student will find a list of different universities to apply. The top universities which are offering this degree are given down below:
Government College University, Faisalabad (GCUF)
University of Sindh
Minhaj University
Kaims International Institute
University of Veterinary and Animal Sciences
FMH Institute of Allied Health Sciences
University of Agriculture
Multan Institute of Health Sciences.
Career Opportunities after Food and Nutrition's
The scope of this Field very high in the abroad. Countries like England, Australia and Canada etc more often to encourage this field in terms of health programs. As compared to Pakistan only governmental sectors are giving revenue to its employees who have done Nutritional Sciences degree in their education career. Education and research, Private consultant and Health professionals are strongly Reliable Opportunities in terms of career Building. Media has also made this profession very trending in the past years and has also built a strong momentum and approach for this field in Pakistan.
Scope of Bachelors in Food and Nutrition in Pakistan
Food's and Nutrition's is an excellent program in terms of Diet and working mechanism of the living things. The Program offers different Nourishment related jobs in Multinational Companies which include Health companies and medicinal Companies. The candidate can also apply in health care industries, Fooding authority, Government sectors. If a person is doing A levels and want to go further in choosing this specific field then he/she must have to choose biology, chemistry and physics as compulsory subject in Advanced level education commonly known as A levels. There are many other degree which are offered in same element but a slight difference in Name are:
Jobs for Food and Nutrition Graduates
Most of the people are confused about the job fields after Bachelors in Nutrition or food technology etc. Following is a list of different jobs that are suitable after a Nutritional Sciences degree for career opportunities:
Public Health Nutrition
Health Sectors
Food Inspector
Clinical Dietetics
Quality Control Manager
Bread Auditor
Processing Unit Manager
These are the most basic jobs for the students who have a degree in nutritional Sciences. There are many other jobs regarding this field, although this is a very healthy and powerful in terms of job opportunities.